I know I am going to get flamed for this, but I just don't understand what the goal is for the occupy Wall Street crowd. I confess that I don't have much use for crowds, so that always has to be factored in as part of my cynicism. And, I suppose, at least these folks are doing something, as opposed to sitting on their asses behind a computer bitching about Wall Street, which is all I have done. But you know what I think when I see shit like this: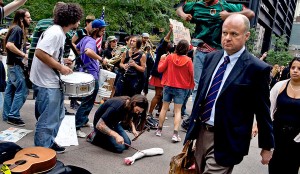 I see that, and I don't think of a coherent message to talk about how Wall Street and the Financial sector and their political influence are ruining the country. I see a bunch of trustafarian nitwits who should be braiding hair and drinking wheat beer in the parking lot of a Phish concert, weaving in a few bong hits and a couple games of hacky-sack. We're just making it too easy for Wall Street and the money boys if this collection of motley fools is the opposition. It's so fucking depressing.
Which gets me back to at least they are doing something. Having said all that, this kind of bullshit is outrageous:
There is no need for this kind of behavior from the cops. That man needs to be fired, promptly. Of course he won't even be penalized in any way.