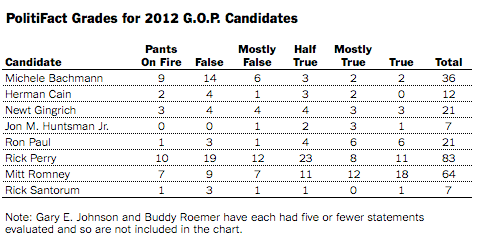 538 has an interesting piece on Polifact's ratings of the truth of statements by Republican candidates for President. The net of it is that almost every time Michele Bachmann opens her mouth, she's lying. I'll go out on a limb and argue that Santorum would be just as bad if he ever got a chance to speak, but his sample size is pretty small, as is Huntsman's.
According to Polifact, at least 71% of what Obama says is at least half right, versus 51% for Perry and 64% for Romney.
Another message of this chart is that a big part of Ron Paul's appeal is that he doesn't tell a lot of lies. He comes by his crazy ideas honestly.