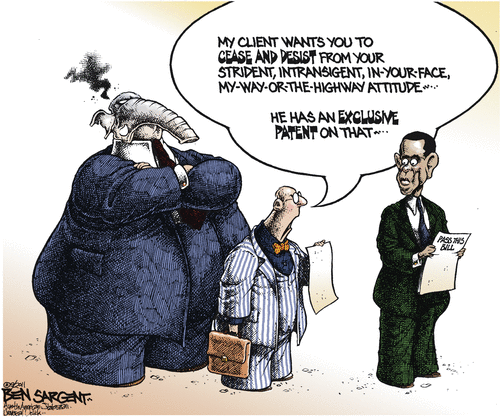 (Ben Sargent via GoComics.com)
Making A Stink in Public is a form of power, as every tantruming three-year-old discovers. The more powerful an individual, the more "right" they have — or are perceived to have — to Make A Stink. That's why would-be Big Men make themselves unpleasant to waiters (and loathed by every other diner). It's why Donald Trump, whose "power" is based entirely on the perception that he's got a lot of money, is so publicly, obnoxiously obsessed with demonstrating that money gives him the right to Make A Stink in Public.
The "Rise of the Tea Party" was a public demonstration that the GOP's voting base had the power to shut down discussion of the President's healthcare proposals by Making A Stink in Public. As we now know, it was a demonstration ("movement") entirely conceived, funded, and controlled by the Koch brothers and their fellow billionaires, but there were plenty of unwitting volunteers ready to stand up and Make A Stink, to out-shout everyone else's ideas and questions with a selection of easily-memorized talking points. And the mainstream media outlets — also owned, funded, and controlled by the same small cadre of billionaires — were all too happy to concede that the Tea Party volunteers had the "right" to out-shout, to drown out, all dissenting voices.
That's why this Spring's Wisconsin labor protests were such an unpleasant shock, first to the major media and then to the Koch cadres funding that media. The teachers, public workers, and their supporters in Wisconsin "took back" their right to Make A Stink in Public, a tactic the Billionaire Boys Club hadn't considered possible. But the Koch's paid lobbyists failed in their frantic search to discover the powerful shadow elite they were sure must be puppeteering the labor protestors just as the Kochs were puppeteering the Wisconsin governor and his fellow GOP legislators. So they were forced back upon the authoritarians' ever-ready second line of defense: Those labor protestors were unworthy of the right to Make A Stink in Public; they were ridiculous, tantrumming spoiled children, an embarrassment to their fiscal betters, in need of stern correction by a strong paternal authority.
The current GOP obsession with keeping the government from functioning uses Making A Stink in Public as its most powerful tactic, but if you listen to the Koch-bankrolled lobbyists, the Murdoch-bought media, and their wholly-owned (mostly) GOP legislators, it's that Black guy in the White House who's… Making A Stink in Public. Who gave him the right — the power — to stand up in public and argue against them?