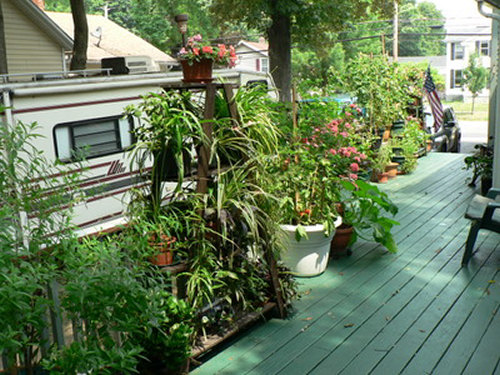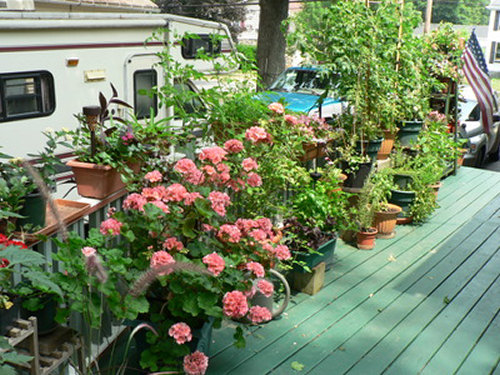 From commentor Scott:
You had asked for some pix of our gardening efforts. Here's a couple of the garden along the rail of the upper deck; or, as a friend refers to it, "nice hedge." It does function as a sight barrier affording us some privacy on the deck.
__
A mix of flowers, ornamentals, vegetable and herbs taken in mid July. They're fading a bit now in Western NY but still producing.
__
The tomatoes are 3 heirlooms and 3 hybrids. Herbs include rampant basil, watercress,thyme, oregano lemon verbena and multifarious mints. Getting to be time to pick and preserve them.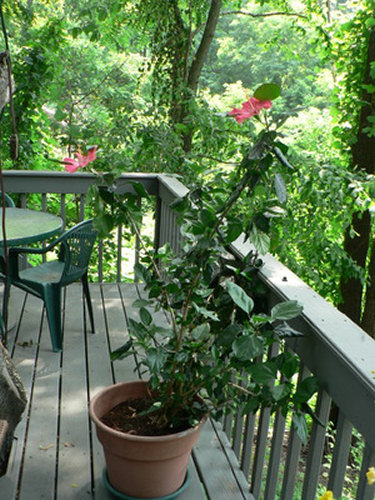 A pic of the Hibiscus on our lower deck, which is not so populated with plants.
***********
Blog find of the moment: Inside Urban Green:Modern methods of growing food, foliage or flowers for the millions of us who are not green thumbs. Ran across it while looking for the Slate article on EarthTainers I linked to back last Spring. Who's doing indoor gardening this winter? If we're going to have photos during the dark months, either you Southern / Southwestern / Californian correspondents need to step it up, or those of you with indoor plants will have to share…
__
Here north of Boston, we are paying for our glorious summer with a bumper crop of ragweed and other allergy-inciting pollens. The itchy eyeballs are pretty bad, and the swollen sinuses are no fun, but it's the perpetual brain-fog that's wearing on my nerves.
__
How are conditions in your gardens, right now?