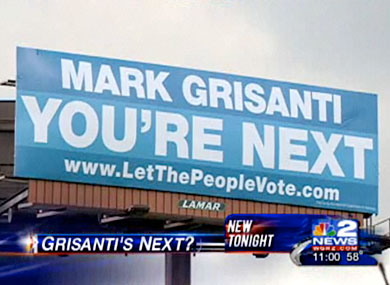 Billboards like this one in Buffalo, sponsored by the National Organization for Marriage (NOM) have been popping up in New York. The "you're next" refers to the belief that the reason that David Weprin lost the special election in NY-9 was his vote for gay marriage in the New York Assembly, and that legislators who voted for the bill will be beaten in the next election.
Whether or not that analysis is correct, as area blogger Adama Brown points out, the vaguely threatening nature of this billboard challenging Republican Senator Mark Grisanti is pushing NOM well into 27-percenter territory, since Buffalo has been roiled by the suicide of a fourteen-year-old gay boy who was bullied for years at a suburban high school.
By the way, my guess is that my Senator, Jim Alesi, will either win as a Republican or switch parties and win as a Democrat after his pro-marriage vote. He's got some huge problems, but this vote only helped his re-election chances in a relatively liberal Rochester district.