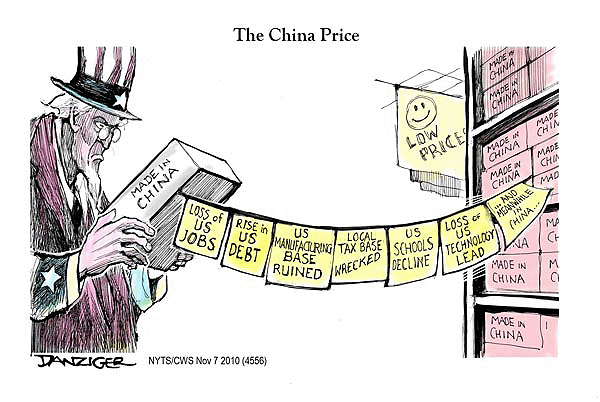 __
Via Greg Sargent, Harold Meyerson discusses "a win for the middle class":
The news that our trade with China has been bad for the American middle class has finally reached the U.S. Senate. On Monday, the Senate will take up legislation that would impose tariffs on Chinese goods so long as China depresses the value of its currency. Despite the partisan polarization that grinds lawmaking to a halt these days, the bill's support is thoroughly bipartisan, with sponsors ranging from such conservative Republicans as South Carolina's Lindsey Graham to liberal Ohio Democrat Sherrod Brown. The legislation is expected to clear the Senate's 60-vote hurdle for a floor vote and move on to the House…
__
… Between 2001 and 2010, the U.S. trade deficit with China cost Americans 2.8 million jobs, according to a report by economist Robert Scott, issued last week by the liberal Economic Policy Institute. Most of those jobs — 1.9 million — were in manufacturing, and of those, almost half were in computers and electronics.
__
This wasn't simply the consequence of China's cheaper labor or more generous corporate subsidies. As China's productivity soared during the past decade, the value of its currency should have risen correspondingly. Instead, China purchased dollars, which had the effect of depressing the yuan and making Chinese exports about 28 percent cheaper than they would be if the yuan had been allowed to appreciate, William Cline and John Williamson found in a study for the centrist Peterson Institute for International Economics.
__
Data like these have been floating around for years, of course. Until now, however, the Senate has remained largely impervious to the evidence of Chinese cheating and American decay. But elite opinion, which the Senate does heed, is finally catching up with mass opinion on whether losing our manufacturing base is a bad thing. An influential July 2009 article in the Harvard Business Review by economists Gary Pisano and Willy Shih argued that losing manufacturing meant losing our edge in innovation, that the relationship between research and production was reciprocal. This would not have come as news to Thomas Edison, but few on Wall Street or in corporate boardrooms the past two decades believed that America's prosperity and dynamism required the retention and renewal of manufacturing…
Read the whole thing. Taking action is going to anger some very powerful people in both countries, but the 'Walmart War' has been just as bad for China's middle class as it has for ours.