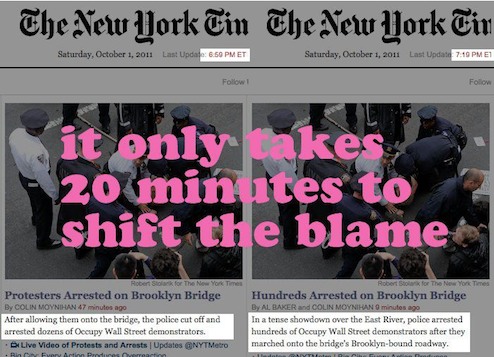 Ken Layne's got it wrapped like a mummy, I don't have much to add:
Shameful upper-crust real-estate brochure the New York Times is finally sort of covering the famous Occupy Wall Street protests now in their third week. We don't care, because why is anyone waiting for some old newspaper to publish the news that everybody is making without the permission of the New York Times, right? But still, it's funny how the first version of the NYT story about the Brooklyn Bridge fuckery by the NYPD was very quickly edited into a "tense showdown" that completely left out the part about the New York cops leading the protesters onto the bridge and into some weird Spiderman orange net trap, on purpose.

Honestly, complaining about the Corporate Media not reporting on the things you already know about is a waste of time. Corporate Media never reports on anything until they're told about this thing by enough sources of Conventional Wisdom such as other media representatives, lobbyists, Senate staffers, the boss, and probably what they read on Slate or whatever.