I know, I know.  I never write. I never call.
And I haven't got anything substantive to say just now (or rather not the time to untangle thought from rage).  But I do have notices of two faculty searches in my general purview at MIT — and while they are very specific and pretty demanding in terms of qualifications, this is a big, bad, beautiful crowd here.
So I thought that I might let social media take up a little slack and alert you all — who may then alert any qualified friends as well — to the possibilities.  And all that seems like a good excuse for everyone else to put up any other suggestions they may have for gainful work for our crowd.
Here's what's on offer at my shop:
First up — a junior, tenure track professorship of science writing. You can see the advertisement and check out the application process here.  The deadline on this one is coming up fast — November 1, so if this is of interest to you or anyone you like, go for it.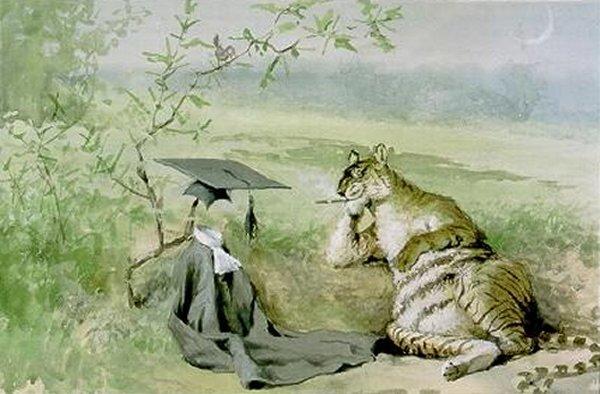 Second:  there is a senior search for a professor of rhetoric.  Ad and applications details here.  There is a little more time available on this one — till December 1.
That's it from my end of the patch.  (BTW — I am not on the committee for either of these positions, so there's no point in lobbying me.  I am happy to answer questions about the nature of the science writing job, and y'all know how to reach me if necessary.)
Now you know what I got.  What do you have?
Jobs anyone?
PS — something more on the main line of Balloon Juicing coming soon.  I've made that promise before, and I've always meant it.
Image:  Frederick Stuart Church, Tiger Having Eaten Professor, 1905.