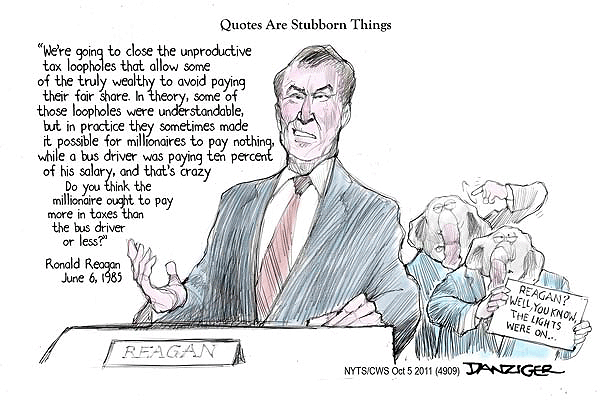 (Jeff Danziger's website)
Another (bitter) chuckle to start the weekend, from Charlie Pierce:
Josh Marshall's joint has been all over the fact that Mitch McConnell, minority leader of your U.S. Senate and onetime nuclear safety pitchman, finally jumped on Harry Reid's last nerve, forcing Harry to get all parliamentary on Mitch's withered hindquarters.
__
(We pause here to note that Reid is going through this entire fan-dance in order to bring to the floor a version of President Obama's jobs act that is actually less than the president wants, but more in line with what Chuck Schumer's patrons in the financial-services industry might allow him to accept, and more in line with whatever oil-soaked calculations are now clicking through the oil-soaked circuits of Mary Landrieu's brain. There must be days when Harry Reid just hates everybody.)
__
The Republicans are, of course, agog, agog being their natural state. John Cornyn of Texas is hollering about "tyranny." Is this the same John Cornyn who once blamed a ruling of which he didn't approve for deadly attacks on federal judges? Why, yes it is. Is it the fella who once was so concerned about the sex life of box turtles? Of course. Why do you ask? Why are we listening to the likes of this guy? Very good question.