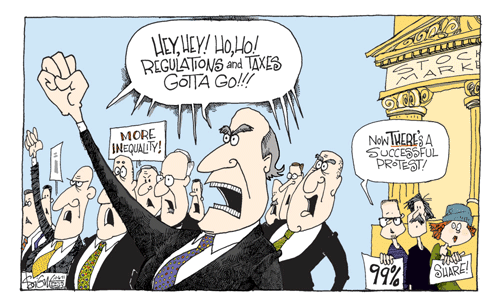 (Signe Wilkinson via GoComics.com)
To the surprise of exactly no one who's been paying attention, Paul Krugman (His Most Excellent Shrillness) sides with the OWS people:
What can we say about the protests? First things first: The protesters' indictment of Wall Street as a destructive force, economically and politically, is completely right….
__
Rich Yeselson, a veteran organizer and historian of social movements, has suggested that debt relief for working Americans become a central plank of the protests. I'll second that, because such relief, in addition to serving economic justice, could do a lot to help the economy recover. I'd suggest that protesters also demand infrastructure investment — not more tax cuts — to help create jobs. Neither proposal is going to become law in the current political climate, but the whole point of the protests is to change that political climate.
__
And there are real political opportunities here. Not, of course, for today's Republicans, who instinctively side with those Theodore Roosevelt-dubbed "malefactors of great wealth." Mitt Romney, for example — who, by the way, probably pays less of his income in taxes than many middle-class Americans — was quick to condemn the protests as "class warfare."
__
But Democrats are being given what amounts to a second chance. The Obama administration squandered a lot of potential good will early on by adopting banker-friendly policies that failed to deliver economic recovery even as bankers repaid the favor by turning on the president. Now, however, Mr. Obama's party has a chance for a do-over. All it has to do is take these protests as seriously as they deserve to be taken.
__
And if the protests goad some politicians into doing what they should have been doing all along, Occupy Wall Street will have been a smashing success.
Also, still, heartbreaking: We Are the 99 Percent.
Any other OWS developments / links / commentary that should be front-paged?
How about reports from the various front lines of the Occupation?