David Dunlap has a lovely and very sad article over at the New York Times about the imminent destruction of I. M. Pei's Terminal 6 at Kennedy International. Dunlap's last few paragraphs perfectly sum up the stupidity of what is happening.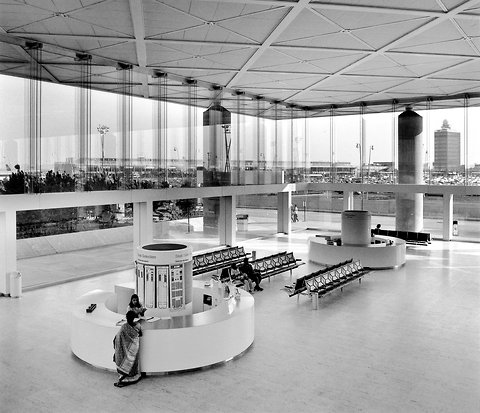 I flew National a bit during the 70s, while Keith and I were busy destabilizing pro-Batista groups in Florida. I was, even then, a seasoned traveler, but stepping inside that building was a joy, a moment that felt like movie-stardom, like the eye of the camera had followed me in through the doors and into a filmic new age, a shiny world peopled with pert stewardesses and loose boys in tight pants off to catch their big break and movie starlets and dapper-suited businessmen and, of course, the obligatory nuns. There were always nuns. They were usually lugging a guitar, although I did once see one with a tuba on a little trolley.
Everyone would check in early and then lounge around looking gorgeous, watching the earth and its luggage go by. And let me tell you, Pei's Sundrome was where it was at. I once snuck a sneaky joint in a utilities closet with Truman Capote and Liberace – they dated for a while in the late 60s, and so the only thing thicker in there than the smoke was the cloud of bitchiness that oozed out of both of them. Another time, I wandered into the men's bathroom by mistake and found out far more about Gore Vidal's taste in rough trade than any woman needs to know. I swapped lipstick colors with Jackie Collins and had carnal knowledge of a young David Cassidy behind a plant holder. I watched Russian spies pass information to Arab sheiks, and once saw Walter Cronkite passed out in a pool of vomit on the stairs, with a party hat on his head and a funny whistle stuck in his mouth, so that every time he breathed he made a sad, warbling farting noise. The staff had discreetly covered him with a blanket and arranged a few "Do not disturb" signs around him. So considerate.
And yet, with all this, I never missed a flight, except the one time that Truman held an impromptu party airside in Departures that lasted for a week. I had been on my way to Florida to meet with Castro, and ended up being twelve hours late because I couldn't pull myself away from Lady Bird Johnson's stash of quite extraordinary coke. People were buying airplane tickets just to go to the damn party. I am told that someone managed to smuggle a small donkey through luggage inspection and Phyllis Schlafly spent several hours riding around on it, shouting "I am the Queen of the May" and flashing her boobs at everyone.
Castro – without the fake beard and therefore almost unrecognizable (he had been flitting in and out of Miami for years pimping his cigar export business) – wasn't amused when I eventually showed up at Miami International, but I offered him some of Bird's coke and he perked right up. Bird laughed herself silly when I told her later.
Good times.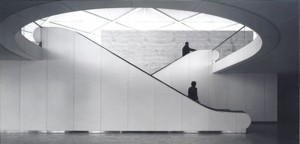 In his article, Dunlap quotes from a letter from Pei's partner Henry N. Cobb to the CEO of JetBlue, and the response that Cobb received:
In January, Mr. Cobb made what he called a "last-minute plea for reversal of this death sentence" to David Barger, the president and chief executive of JetBlue. "Conserved and reanimated, the Terminal 6 pavilion would further strengthen the distinctive identity of JetBlue as a sponsor of design excellence and an effective advocate for a sustainable future," Mr. Cobb wrote. "I. M. Pei joins me in thanking you for your consideration of this request." (That's as close as Mr. Pei would ever get to joining anything resembling a fray.)

Mr. Barger said in reply, "While I share your passion for classic terminal designs, I have concluded the time has passed for the pavilion building to serve any functional purpose." Mr. Barger went on to express his gratitude to Pei Cobb Freed "for your influence on JetBlue's first decade" and concluded:

I personally commit to advocate for a permanent display of the pavilion photographs and other architectural artifacts so future generations can continue to appreciate the beauty of Terminal 6 and the uniqueness it once brought to J.F.K.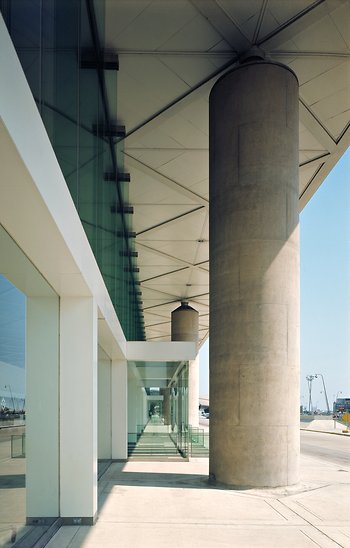 Because a photo display and a chunk of ceiling stuck on the wall somewhere over a travelator between the toilets and the fucking Pandora store is clearly an adequate substitute for being able to appreciate the beauty and uniqueness of Terminal 6 by actually visiting it. All those memories torn down, leaving us only memories.
What an arsehole you are, Mr Barger.
Whether Pei's building makes your loins warm or not (and it makes mine feel positively frisky), destroying something so well made, so representative of a time in our history, should be unacceptable.
That JetBlue and its engineers and managers were unable (or unwilling) to come up with a way to retain this building, and construct the facilities they need around it and through it, betrays a shortsightedness that would make me nervous were I a JetBlue shareholder.
I hope (in vain, I suspect) that Mr Barger might wake up one morning and find Shame perched on the end of his bed, staring at him with fear and loathing in its eyes – a little like waking up next to Michele Bachmann – and he will feel the shame of knowing that he is, and was, a grey numbers man, a nothingness who always took the safe route and failed regardless, a little man who never had the balls to make a visionary decision.
Images: George Cserna / Avery Architectural and Fine Arts Library Columbia University, and Pei Cobb Freed and Partners
Cross-posted at Sarah, Proud and Tall