This bounty is from the best garden of all: Nature untended. I've been collecting mushroom for eats (mycophagy) since the Carter Administration. The summer/fall of 2011 is by far the best mushroom year I've ever known in the Northeast. So much frigging rain. These are all from Bridgehampton, Long Island, plucked last week.
__
Puffballs. I've never seen so many in one spot (in a meadow, around elm trees). Not my favorite, gustatorily speaking. Kind of bland, like tofu, but they do absorb whatever flavor you fry them in (garlic and butter, in my case).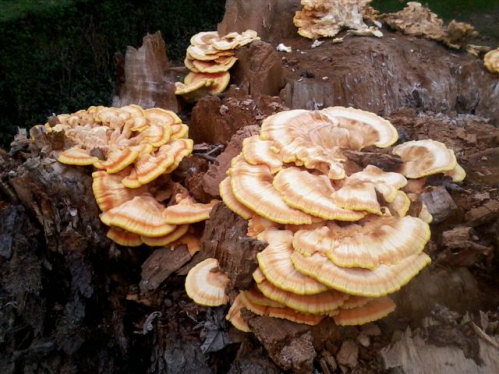 Two things about Hurricane Irene: she brought lots of rain and knocked down trees. Mushrooms love it when that happens. This superb specimen is a chicken mushroom (Sulphurous polyporus), so-called not because it tastes like chicken but because of the texture–truly like a succulent piece of chicken breast when cooked.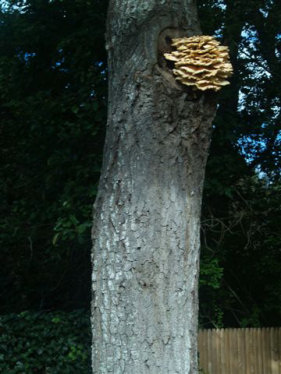 Another one growing high up on a tree. I couldn't reach it!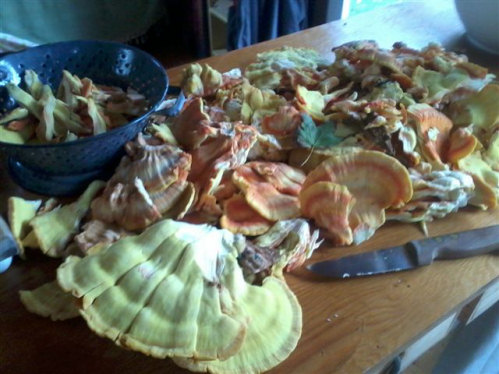 The gorgeous aforementioned chicken mushroom, in the kitchen. They are very versatile in cooking. Here's a quick and basic recipe: Sautee garlic, green peppers, and onion in olive oil in a frying pan. (Optional: add a jalapeno). Wash mushroom well, cut out woody or brown spots; tear or cut into small pieces. When onion begins to become translucent, add shrooms. Fry for five to ten minutes, stirring occasionally. Add a bit of white white. Cover for a few minutes. Bang, it's ready to eat. Also optional: stir a little tomato sauce.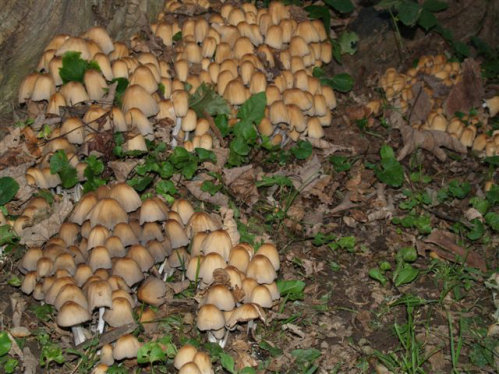 These are inky caps (Coprinopsis atramentaria); very tasty but unfortunately they contain a chemical compound similar to that of Antabuse, so you shouldn't eat these with alcohol. Thus, I had but a nibble at breakfast in an omelet, to give me plenty of time before I started drinking wine, which usually happens in the late afternoon. (If you an image search of 'inky cap' you can see the interesting states of decay, which happens very quickly–a day or two–and you'll see the "ink".)
***********
Temperatures around here went from 40-ish early Saturday morning to 80-ish Saturday afternoon, which means it's officially Autumn in New England (such a range being responsible for the foliage colors that attract leaf-peeping tourists). No frost in my particular microclime yet, but I doubt the last flowers on my Beefsteak tomato vine will succeed in setting fruit.
__
What's it like in your local microclimates, this Sunday morning?