I went down to Occupy Toledo this morning. I was told a couple of years ago to count police officers and not protestors, with the general rule being one police officer for every twenty protestors. If that holds true, there were about 200 protestors there.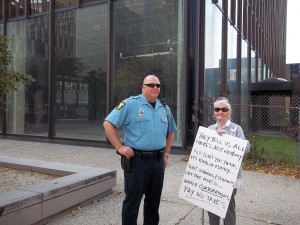 This police officer was not actually protesting, although I appreciate how he joined right in for the picture-taking.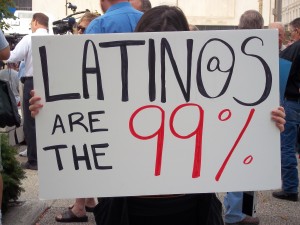 This girl did not want her face revealed, because she is looking for work and is afraid public protesting will harm her chances with an employer. When she's not covering her face with this sign, she wore a bandanna pulled up over the lower half of her face, which made her look a little dangerous and mysterious.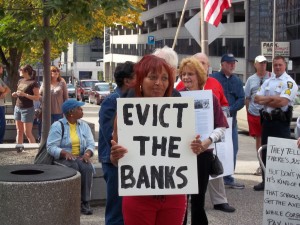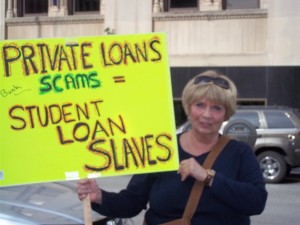 The No On Issue Two folks were there, and the voting rights people, and lots of cheerful and stoic union members (including Justice For Janitors), and two Ron Paul supporters. Every Ron Paul supporter I have ever met is young, male and has tools snapped to his belt: knife sheaves, chains, lariats, big bunches of jangly keys. You can hear a Ron Paul supporter approaching behind you, if you remain alert. Just put your hand out to receive the Repeal the Fed leaflet, because it's coming.
I couldn't stay for the general assembly, but the protest itself was just great. A real positive feeling. There were lots and lots of local media trucks there.