Here is the GOP message to America: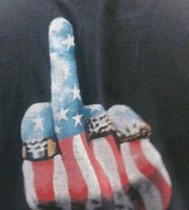 Here is the headline from the AP detailing the outcome of the Jobs Bill vote in the Senate:
Senate Republicans vote to kill Obama's jobs bill

By ANDREW TAYLOR and BEN FELLER

WASHINGTON (AP) — Senate Republicans have voted to kill the White House jobs bill despite weeks of campaign-style barnstorming by President Barack Obama across the country.

Forty-six Republicans joined with two Democrats to filibuster the $447 billion plan.

That vote was not final. The roll call was kept open Tuesday night to allow Sen. Jeanne Shaheen, D-N.H. to vote. But it would have taken 60 votes in the 100-member Senate to keep the legislation alive.

The plan would have included Social Security payroll tax cuts for workers and businesses and other tax relief totaling about $270 billion. There also was to be $175 billion in new spending on roads, school repairs and other infrastructure – as well as jobless aid and help to local governments to avoid layoffs of teachers, firefighters and police officers.

Republicans opposed the measure over its spending to stimulate the economy and its tax surcharge on millionaires.
As Steve Benen notes, this really wasn't a vote on the bill itself:
This is not a vote on final passage of the bill. It's not even a cloture vote to end debate so that there can be a vote on final passage. Tonight, rather, is on the motion to proceed. The Senate is an awkward institution with often-incomprehensible procedures, but motions to proceed are among the more frustrating wastes of time in this institution.

In effect, what the Senate will vote on tonight is whether they can have a debate on the jobs bill. That's all this is, a vote to allow a discussion. Republicans will, of course, filibuster the motion to proceed — a concept that would have been considered patently ridiculous not too terribly long ago — even before having an opportunity to filibuster the bill itself.

When members of the Democratic caucus — Ben Nelson, Joe Manchin, and Joe Lieberman — vote with Republicans tonight, they're not only rejecting a credible jobs bill, they're also rejecting an opportunity to talk about a credible jobs bill. Republicans and conservative Dems are, as a practical matter, saying that the notion of even debating the American Jobs Act is so offensive, they can't even allow members to begin the discussion.
Manchin came through and actually voted in favor, which is a pleasant surprise, with only Nelson and Tester voting against. So two Democrats and every Republican are so terrified of even discussing job creation that they have to block any and all debate on the matter. But don't worry, the usual folks will still have the GOP's backs- here is James Joyner running rhetorical cover (in a post reacting to Mistermix's piece this morning):
I would, however, say Reid overstates his case in saying Republicans are trying to thwart job creation. A particular bill, yes. The Democrats in general, yes.
Is there any doubt the GOP is trying to thwart job creation? They won't even allow a discussion to take place. At least the sabotage of the Republicans, unnoticed by prominent bloggers, is picking up steam elsewhere:
"Their strategy is to suffocate the economy for the sake of what they think will be a political victory. They think that the more folks see Washington taking no action to create jobs, the better their chances in the next election. So they're doing everything in their power to make sure nothing gets done."

The message goes on from there to talk about the merits of the White House jobs bill, urging recipients to call Capitol Hill. Regardless, this is, as near as I can tell, the first time anyone associated with the president has broached the sabotage question at all.

And that strikes me as rather remarkable.

At least Messina is in good company. Michael Cohen, a senior fellow at American Security Project, apparently following up on a discussion I launched last November, recently said, "We're far past the point where there is reason to doubt that the GOP is purposely trying to harm" the economy.

Sen. Chuck Schumer (D-N.Y.), vice chairman of the Senate Democratic Conference, believes "some" Republicans "want the economy to actually fail" on purpose. Paul Krugman recently said in his column, "[I]t's hard to avoid the suspicion that G.O.P. leaders actually want the economy to perform badly." Eugene Robinson, a Pulitzer Prize winner, was recently asked whether it's possible Republicans would sabotage the economy. "Well, let me be honest," he said. "It has occurred to me that this is a possibility." E.J. Dionne Jr., Dan Gross,David Frum, and Andrew Sullivan have all raised the same concerns.

A few months ago, Kevin Drum wondered whether this will ever be "a serious talking point," adding, "No serious person in a position of real influence really wants to accuse an entire party of cynically trying to tank the economy, after all."

Given recent events — the debt-ceiling scandal, the GOP-driven downgrade, the Republican rejection of any efforts to boost the economy, the GOP leadership's letter to Bernanke pleading with him to let the economy suffer, the repeated threats of government shutdowns, tonight's death of the American Jobs Act — it appears all kinds of serious people are at least entertaining the possibility.
And so, the jobs bill is dead. It didn't go down exactly how I expected it would, but close enough. I would have thought the GOP would have found a way to separate the tax breaks from the "useless" spending on teachers, roads, etc., and then allowed the Democrats to pass that and take the hit from their base, but it turns out that straight up nihilism wins. Out of a job? You're on your own, folks. The GOP have an election to win, and the obvious two pronged approach is doing whatever they can to destroy the economy while actively engaging in voter suppression.
All that is left now is for Chuck Todd and David Gregory to explain how this is a failure on the part of Obama. And no, I am not watching the damned debate tonight.