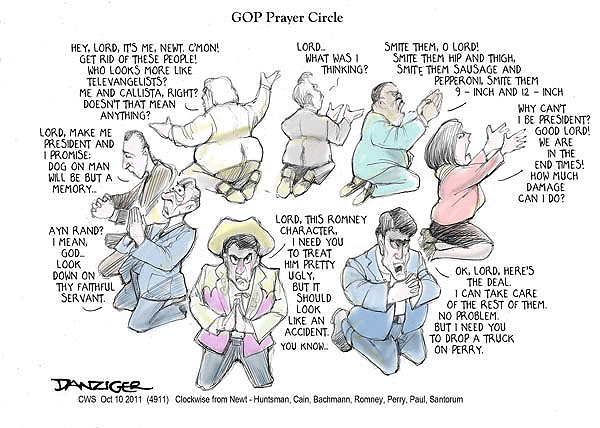 (Jeff Danziger's website)
__
Yet another GOP debate this evening:
It's been nearly three weeks since the last Republican presidential primary debate… Perry has fallen from his perch high above Romney in the polls, all the way back to third place behind Romney and Herman Cain, and now has a lot to gain, and lose, in tonight's 8 p.m. debate, an economy-focused event hosted by Bloomberg and the Washington Post at Dartmouth College. Perry can either erase memories of those bad debates with a sharp performance, or he can further convince donors and voters that he's not ready to compete on the national stage.
__
Speaking of stages, the format of this debate is a bit different than what we're used to seeing. Instead of standing behind podiums, the candidates will be seated around a large circular table facing debate hosts Charlie Rose, Karen Tumulty, and Juliana Goldman, and surrounded by the audience. "This format," Bloomberg News hopes, "will facilitate serious and substantive debate on issues of vital importance to the country." Good luck with that.
__
Another quirk of the debate is that, according to the Times, "the candidates have also been told they will be able to ask each other questions, and that the order will go alphabetically, with Mrs. Bachmann starting."
Bloomberg News, the WaPo, and Charlie Rose — now that's what you call an insomnia cure serious-y! Since Rudy 911 Giuliani has taken himself out of contention, Chris Christie has endorsed Romeny (on Fox News!), and notorious kingmaker Ralph Nader is lost in futile dreams of a Bloomberg candidacy, truly, it is the time for seriousness. Therefore, I predict at least one own-goal gaffe by Willard (probably in his role as a lifelong denizen of the Uncanny Valley), something egregiously offensive to those of us who are not straight white men with money from one or more of the non-NH-based candidates, and — unless the security services conduct rigorous TSA-style body searches plus multiple auditorium sweeps — a hail of beer cans from the audience during the now-established "viral video GOP embarrassment" round. Dartmouth has a reputation of its own to protect, after all.