With cooler temps and promised rain, today was a good day to swap the cloth row covers out and the poly covers in. Done and done.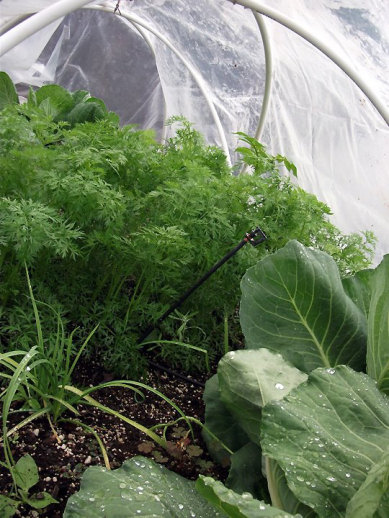 It rained last night, with more scheduled for next week. Time to pack away the garden's summer clothes (fabric row covers) and break out the winter wear (6-mil poly). The cabbage & carrots (and a volunteer potato) enjoy this slim moment of freedom between covers; snug/bug, u-bet.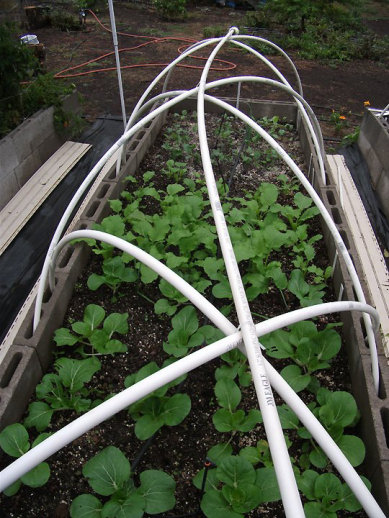 The young pak choi, Japanese turnips and kohlrabi have never seen the yard outside their row covers — they took their uncovering well; With luck, they'll grow up big & strong and meet their neighbors in some savory soups and stews. We'll sing their praises.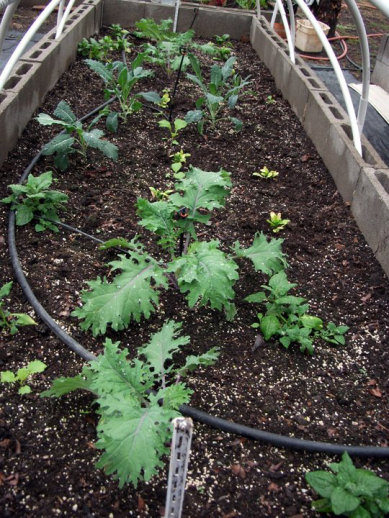 Assorted young kales and spinaches taking a breather before they get their skylight in place; Stay warm, little veggies.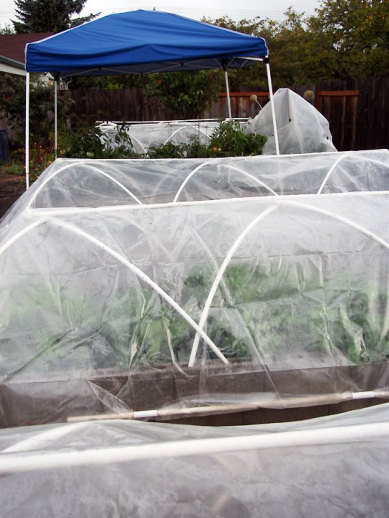 All tucked in. Oh, that blue thing? A last-ditch canopy erected yesterday with hope that a few more really wonderful tomatoes will ripen on the vine.
********************
I must confess to another #picsfail, concerning my personal apple harvest — one tasty green Roxbury Russet, from the four-foot-tall multi-graft "antique varieties" sapling I planted last year. Yes, I should've spared the poor little tree the trouble, but I missed this solitary fruit when I checked after blossom-fall in May. Tragically, after ten days in the kitchen, I decided I'd better destroy (eat) the evidence before recording it for posterity.
__
So… what (if anything) is happening in your gardens?