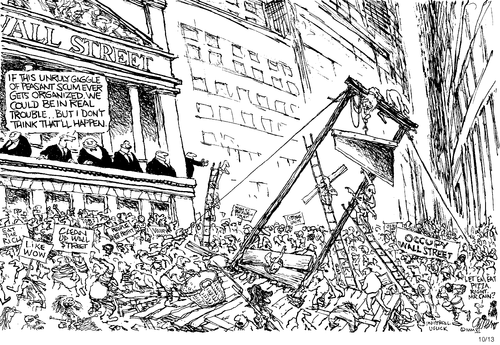 "First they ignore you, then they ridicule you, then they fight you, then you win."
__
If Apocryphal Gandhi was right, it seems like we're approaching the pivot point between stages two & three. Not "news" (I hope to post more later), just links to some interesting pieces a little outside the spotlight. Chris Hedges at Truthout provides a useful explanation of the ground-level organization in Zuccotti Park, via a 22-year-old artist/waitress named Ketchup:
… "People were worried we were going to get kicked out of the park at 10 p.m. This was a major concern. There were tons of cops. I've heard that it's costing the city a ton of money to have constant surveillance on a bunch of peaceful protesters who aren't hurting anyone. With the people's mic, everything we do is completely transparent. We know there are undercover cops in the crowd. I think I was talking to one last night, but it's like, what are you trying to accomplish? We don't have any secrets."…
__
"So it's 9:30 p.m. and people are worried that they're going to try and rush us out of the camp," she said, referring back to the first day. "At 9:30 they break into work groups. I joined the group on contingency plans. The job of the bedding group was to find cardboard for people to sleep on. The contingency group had to decide what to do if they kick us out. The big decision we made was to announce to the group that if we were dispersed we were going to meet back at 10 a.m. the next day in the park. Another group was arts and culture. What was really cool was that we assumed we were going to be there more than one night. There was a food group. They were going dumpster diving. The direct action committee plans for direct, visible action like marches. There was a security team. It's security against the cops. The cops are the only people we think that might hurt us. The security team keeps people awake in shifts. They always have people awake."
__
The work groups make logistical decisions, and the general assembly makes large policy decisions.
__
"Work groups make their own decisions," Ketchup said. "For example, someone donated a laptop. And because I've been taking minutes I keep running around and asking, 'Does someone have a laptop I could borrow?' The media team, upon receiving that laptop, designated it to me for my use on behalf of the Internet committee. The computer isn't mine. When I go back to Chicago, I'm not going to take it. Right now I don't even know where it is. Someone else is using it. But so, after hearing this, people thought it had been gifted to me personally. People were upset by that. So a member of the Internet work group went in front of the group and said, 'This is a need of the committee. It's been put into Ketchup's care.' They explained that to the group, but didn't ask for consensus on it, because the committees are empowered. Some people might still think that choice was inappropriate. In the future, it might be handled differently."…
__
Mike Konczal at Rortybomb "Pars[es] the Data and Ideology of the We Are 99% Tumblr":
… Let's bring up a favorite quote around here. Anthropologist David Graeber cites historian Moses Finley, who identified "the perennial revolutionary programme of antiquity, cancel debts and redistribute the land, the slogan of a peasantry, not of a working class." And think through these cases. The overwhelming majority of these statements are actionable demands in the form of (i) free us from the bondage of these debts and (ii) give us a bare minimum to survive on in order to lead decent lives (or, in pre-Industrial terms, give us some land). In Finley's terms, these are the demands of a peasantry, not a working class.
__
The actual ideology of modernity, broadly speaking, is absent… no demands for cheap gas, cheaper credit, giant houses, bigger electronics all under the cynical "Ownership Society" banner. The demands are broadly health care, education and not to feel exploited at the high-level, and the desire to not live month-to-month on bills, food and rent and under less of the burden of debt at the practical level.
__
The people in the tumblr aren't demanding to bring democracy into the workplace via large-scale unionization, much less shorter work days and more pay. They aren't talking the language of mid-twentieth century liberalism, where everyone puts on blindfolds and cuts slices of pie to share. The 99% looks too beaten down to demand anything as grand as "fairness" in their distribution of the economy. There's no calls for some sort of post-industrial personal fulfillment in their labor – very few even invoke the idea that a job should "mean something." It's straight out of antiquity – free us from the bondage of our debts and give us a basic ability to survive.
__
Roger Ebert, in his Sun-Times blog, muses on "Tea and Empathy":
… The two party system is broken, Ralph Nader has been telling us for years. Yet his disastrous attempts at forming third parties have resulted mostly in damage to his own cause. Now what we are seeing, I believe, is the formation of two New Parties within the shells of the Old…
__
It seems to me that your politics can be defined by whose side you are on. Tea Party members are mostly on their own side. They believe they should pay lower taxes, or none. If we can't pay for health care, tough luck. The Occupation forces, who seem more affluent and might benefit more from lower taxes, are on the side of those being exploited by an unregulated Wall Street.
What other OWS/Together links, stories, news, data should be front-paged?