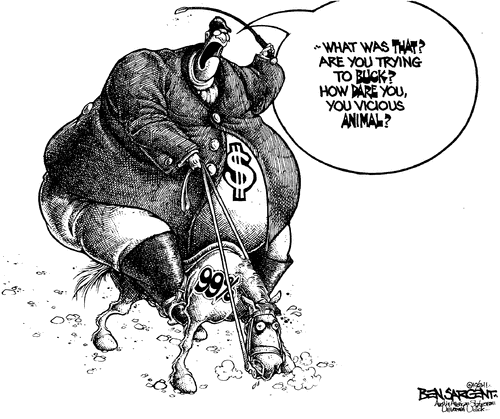 (Ben Sargent via GoComics.com)
__
I wanted to link to Plutocracy Files, which has been doing great work aggregating information on the smaller protests across the country that don't attract big-media punditocracy attention. Special props for Taryn Hart's interview with Jeff Madrick, author of Krugman-approved The Age of Greed — YouTube clips at the link, for your weekend listening pleasure.
Per Charlie Pierce, a Very Relevant Celebrity will be visiting OWS:
The fact that Lech Walesa apparently is planning to come to New York to visit the Occupy site is just about the coolest thing that's happened since the movement's reach began to spread. I am looking forward to hearing David Brooks and George Effing Will and the rest of the people react to the presence of a genuine hero without whom the likes of Brooks and Will — and just about every conservative on the planet — would not be allowed to lie all the time about Ronald Reagan's having won the Cold War. (Hint: It was far more the doing of people like Walesa and his fellow Pole, the guy who was sitting in the Chair of Peter at the time.) It would also be hilarious to hear someone call Lech Walesa a Communist.
Matt Taibbi, who also has some experience with the banksters, advises OWS to "hit the bankers where it hurts". And Joe Coscarelli at NYMag's Daily Intel solicits the opinions of "protest historians" Mark Naison and Todd Gitlin on "What Will Become of Occupy Wall Street".
Finally, Politico (you have been warned) reports that "Treasury Secretary Timothy Geithner suggested Friday that a new round of 'dramatic enforcement actions' against Wall Street wrongdoing is coming.":
Asked on CNBC about the Occupy Wall Street movement's frustrations over the lack of criminal charges related to the financial crisis, Geithner said action is on the way.
__
"You've seen very, very dramatic enforcement actions already by the enforcement authorities across the U.S. government, and I'm sure you're going to see more to come. You should stay tuned for that," he said…
When promised future relief for an immediate problem, my country-born Irish grandparents had an old proverb referencing the difficulty of keeping the stock alive during the late-winter starvation months after the stores ran low and before the green shoots appeared: Live, horse, and you'll get grass!