I went out to a Teamster rally night before last. The rally was held to show private sector union support for the Vote No On Issue Two campaign in Ohio. No on Two is a citizen veto of Governor Kasich's attempt to destroy public sector unions. The words I heard most often were "respect" and "vote". I am at the point in the No On Two campaign where I always end up with these things, where I am obsessed with it and wondering why I ever got involved, because I am a bad loser and will hate to lose very much, so the rally came at a good time for me personally. Understand that wasn't why they held it, because I was getting sad, but it is true that I found it heartening and inspiring.
Everyone in that room knew that the one and only objective of this sophisticated and coordinated multi-state demonization campaign is to destroy unions for good, with public sector workers targeted first in what is a broader war.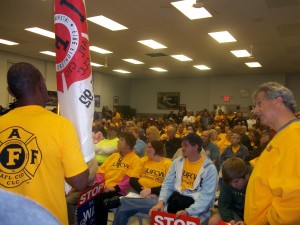 The part of the war on workers that has been the most baffling and disturbing to me is the complete disconnect between my personal, local, daily experience with union members and the contempt and vitriol I hear directed toward them every day in the political discourse and by commercial media. The 2nd largest private sector employer here is a union shop, and the union members that work there make a product that is so revered locally it is pictured on the town welcome sign. I visit a public elementary school down the road at least once a month in the course of my work. It has just never occurred to me to consider the union-member teachers who work there lazy and stupid and coddled.
It is now acceptable for an elected official in Michigan to say this about them:
"I think so," Meekof said. "It's an opportunity to let teachers get farther away from union goons. That should give them a better chance to break away from the mediocrity. That should make things better for our schools and our children."
We have a national cable channel where it is possible, on any given day, to hear multi-millionaire media personalities lie about union workers. This is now just business as usual. Goons. Mediocrity. Thugs. Violent. On the Democratic side, all I seem to hear is hand-wringing over income inequality as it relates to tax policy or the safety net. I'm hearing this in a country where 40% of wage-earning households qualify for food stamps. I'm hearing this in a country where conservatives have made a campaign slogan out of crowing about how 47% of wage earners don't contribute. Wage earners. People who work. 47% of wage earners don't contribute to this country? WTF? This is now a winning campaign slogan?
Is there some connection between devaluing and demeaning the work that people do and the stagnant or declining wages they are paid to do that work? Is there a difference between workers who organize and win a seat at the table and workers who don't? Is there any connection between the decline in organized labor and massive income inequality? Is there any connection between ridiculously high salaries and bonuses at the tippy-top and stagnant or declining wages at the bottom and middle? Talking about tax policy and shoring up the safety net is great, but there's a multi-state attack on wages going on right now, and all union workers are targeted. While I think it's fabulous that we want to provide them with food stamps or tax subsidies once they're all making 9 dollars an hour, I think I'd rather protect their right to bargain and organize so we aren't all making 9 dollars an hour.
I'll leave you with what I consider a hopeful, local anecdote. Jim is a police officer and he's a conservative. He is married to Mary, who works here with me. He had a Bush/Cheney sticker on his truck well past the 2004 election and he once gave me two Limbaugh books he bought at a yard sale as a gag gift. He's also a good cop and a good husband and a good father.
As I was walking out of the law office yesterday I saw this planted out front: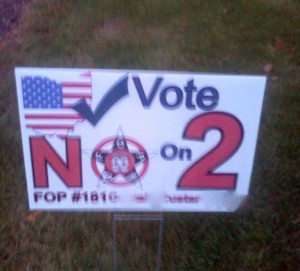 I figured the local Democrats or a union group had stuck it there, but then I took a closer look. The sign has an FOP endorsement. The local Democrats and union groups bought signs from a Teamsters local. This isn't one of ours. Jim put the sign up. We don't ordinarily display political signs at the law office, but I'm going to break my own rule and leave it up. This is the first time in the 15 years I've known Jim that we are on the same side.