Granted, they're all a bunch of soshulists wastoids out there, but this still impressed me, from reader and commenter Mwangangi:
We had a turnout of about 2,700 people [roughly 2% of the entire population of the city].
I like this pic: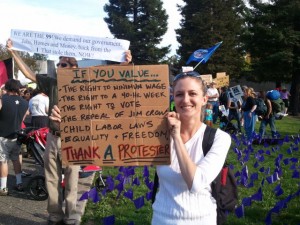 I like it because it's true. Not too many of the important changes of the past 200 years (and let's not kid ourselves, things have gotten better in most ways) came about, not because David Gergen, Tom Friedman, and some billionaire made it happen, but because a bunch of dirty fucking hippies took to the streets (or worse).
Update. Something went nuts in the comments here, I think, and word press starting eating everything. I closed them as a result.