Via the Benenator, this unsurprising chart: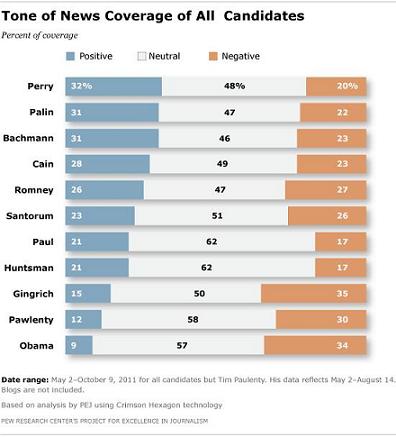 One man running for president has suffered the most unrelentingly negative treatment of all: Barack Obama. Though covered largely as president rather than a candidate, negative assessments of Obama have outweighed positive by a ratio of almost 4-to-1. The assessments of the president in the media were substantially more negative than positive in every one of the 23 weeks studied. In no week during these five months was more than 10% of the coverage about the President positive in tone.
If the only thing you ever read was the comments section here, where a dozen or so disaffected loudmouths are constantly reminding us that Obama is the worst President ever and that everyone in the universe was an OBOT, this would be surprising to you. The reality, of course, is quite the opposite. This President has received a sustained drumbeat of criticism on blogs and in the media that is unlike anything I've seen. So, brave progressive truth tellers busy speaking truth to power because no one dare criticize the President, get over yourselves. If you paid attention to this weekend alone, where the President was flayed alive by some for sending 100 people to track down a murderous cult leader in an action authorized by Congress and begged for by HRW, this would be no shock.
The fact of the matter is that the outliers in the national conversation are the few people who say anything nice about Obama, not you highly principled misanthropes.
BTW- who will be the first to claim that JOHN COLE CAN NOT HANDLE DISSENT? My money is on Corner Stone.