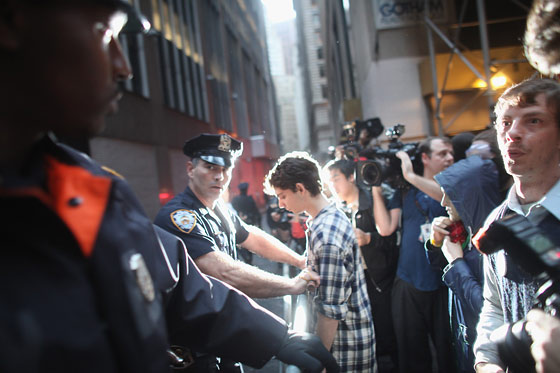 The image above is one of 75 at NYMag's Daily Intel slideshow, Thirty Days of Occupy Wall Street. Noreen Malone at the Daily Intel reports that "More Than 70 Percent of New Yorkers Are Okay With Occupy Wall Street":
That's the key takeaway from a Quinnipiac poll released today: 72 percent of city residents said that as long as the protesters continue to follow the law, they should be allowed to remain in Zuccotti Park indefinitely. That also tracks fairly closely, by the way, with the 73 percent of New Yorkers who support stricter regulations for financial firms. 61 percent of New Yorkers (including a majority of Republicans) support the extension of the state's "millionaire tax."…
As part of its extensive coverage, the Guardian has an excellent single-shot summary of "a global howl of protest".
The self-proclaimed One Percenters have always seemed a little cartoonish, but Chris Sims at Comics Alliance collects the views of actual comic-book Richie Riches… including, of course, RR. Also for conniseurs of the comically two-dimensional, Charles Johnson at LGF unearths (or should that be "unprivies"?) Pajama Media's diseased conception that OWS is using a "neo-swastika power symbol", aka, a twitter hashtag.
And now there is OccupyWriters, which musters among its ranks quite a few of the Great & Good that you'd expect (Margaret Atwood, Alison Bechdel, Noam Chomsky, Samuel R. Delany, Barbara Ehrenreich… ) and some that you might not (Lemony Snicket).
__