I went out to a county political event last night and saw my friend Dolores. She told me that she was involved in an Occupy group in a city east of here, so I went out there to see how it was going. Defiance is the name of the city. You can read about that name here.
General Wayne surveyed the land and declared to General Scott, "I defy the English, Indians, and all the devils of hell to take it."
I saw this sign on the way into the small city: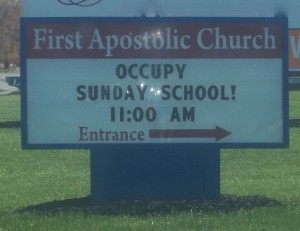 Dolores wasn't there, but I met these people when I arrived: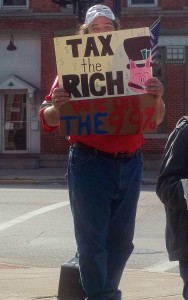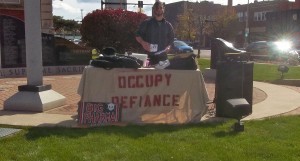 This is their statement:
Occupy Defiance is a group dedicated to eliminating corporate and financial influence on our government and to promoting positive community action at a grassroots level.
I did my usual disclosure, where I showed them Balloon Juice on my phone and told them I'd be posting pictures. I don't want to get anyone fired. They were really welcoming and willing to talk.
They got a permit to set up in the location pictured, which is a grassy area right in front of the county courthouse. They had invited two state senators to speak with them, both Republicans (it's a conservative area). One was a no-show and they didn't know if the second was coming. He was scheduled at 3:30.
The two negative things they had heard was one outraged citizen complaint that they are located close to a veterans memorial and a local business owner who came out of his store to tell them to "get a job". Most of them have jobs. Like a lot of lower-wage workers, they don't have a regular, predictable work schedule.
It's amusing that there are people in this country who still cling stubbornly to the belief that everyone who works has a forty-hour 9 to 5 job, with weekends off. That hasn't been true for a very long time.
One of the main complaints I hear from lower wage service workers is that they don't know from one month to the next when they're working, because their schedules change constantly. That makes it very difficult to have a less than chaotic family or personal life outside work, let alone scheduling time for a movement, like these folks are doing. Of course lower-tier workers aren't compensated for erratic or impossible-to-predict work schedules the way Paul Ryan's makers are. They're not makers, they're takers, and they have to take whatever random 32 hours in a 7 day period they're given by the makers.
Maybe the "get a job" guy thinks all those people he sees working Sundays and nights (when he's off) are volunteers.