The Times has a long piece about outsourcing at a Michigan veterans home, where 170 union aides making $15-20 an hour are going to be replaced by a contract services company that will pay closer to $10/hr. The story goes into great detail about how $10/hour isn't really a living wage, and how the pay cut will affect the union employees. That's true, and it's probably just churlish of me to ask for more in a story that covers a lot of the important bases (like links to two pieces showing that contracts often cost the state more than the government services they replaced). But, let me be a churl for a moment and ask for more.
The Times' coverage is typical of what the press misses about outsourcing, since it lacks analysis like this (click to embiggen):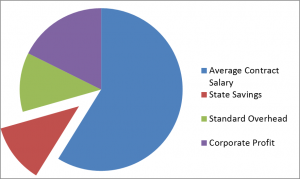 That's a totally made-up graph with numbers I pulled out of my ass, but any outsourcing project embodies a trade-off between giving a corporation some profit so they can cut workers wages. A graph that considers the amount of money currently spent as the whole pie, and shows the reader how that pie is cut under the new contracting setup is almost never shown. Instead, we get vague promises of savings, which as the article noted, often don't pan out. Also missing is any discussion of the principals of the outsourcing company, including whether they live in the state or region, and to whom they're making political contributions.
My guess is that there are two reasons the Times, like most of the press, devotes most of its space to quotes from workers who will either be losing their job or who are adjusting to the $10/hr job. First, talking to affected workers is easy and generates the conflict the press loves. Second, I assume the other information is hard to get, on purpose, because the outsourcing companies driving the discussion don't want you to think about it. So, these stories end up with the reader being extremely well-informed on the obvious ($10/hr jobs suck), and still ignorant on whether the outsourcing contract is a deal worth taking.