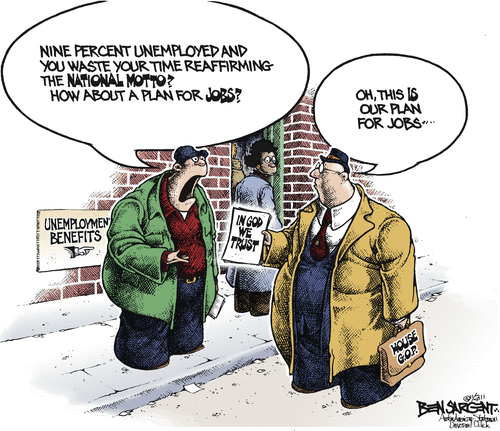 (Ben Sargent via GoComics.com)
__
By request from a longtime commentor, who may even be old enough (like me) to remember when a handmade sign saying "In God We Trust, All Others Pay Cash" mounted over the cash register was considered the epitome of retail humor.
__
We missed some other Very Important Repub shenanigans over the weekend, but fortunately Mr. Pierce at Esquire is here to update us on the latest Embarrassments to Democracy:
On Friday, Mitt Romney, the Republican frontrunner and a man who could be mugged for his wallet through the mail, a man of such iron will that he wrote a book called No Apologies in which he changed positions on several issues between the hardcover and paperback editions, went before the Koch Brothers hobby-horse Americans for Prosperity banquet and bravely promised to do everything he could not to do anything he bravely promised to do when he was running in any of the several other political campaigns that have kept him from ever being "a professional politician." Specifically, he signed on to Paul Ryan's toss-Grampa-to-the-jackals voucher approach to Medicare. Ryan was thrilled to death. Not his death, of course, but the death of a lot of old people who'll be thrown onto the market of the single most disgusting industry in America that doesn't involve deepwater drilling…
__
Moving on, Saturday night saw a genuinely strange spectacle in Houston. Herman Cain, by all accounts (now up to four) an unsuccessful adulterer, took the stage with Newt Gingrich, by all accounts (too many) a very successful adulterer, for what was billed as a "Lincoln-Douglas" style debate. This was rather belied by the facts that: a) the two men sat in plush armchairs, and looked for all the world like Statler and Waldorf from The Muppet Show; b) the two men disagreed on very, very little, and at great length; and c) neither of these clowns is Abraham Lincoln…
Much more at the link, which I share with you all because it's nice to read something political that doesn't make me quote Swinburne.
What's on the agenda for the evening when we're all resetting our internal clocks again?