Steve M. catches some amazing Cain-fluffing over at Fox.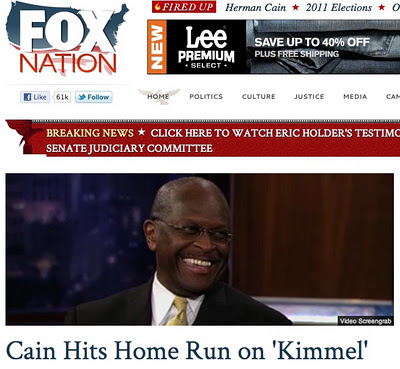 Any chance Cain ever had to win the Republican primary ended with that disastrous news conference. Everyone knows that.
In a similar vein, James Wolcott has the story of Fox Business News' brilliant string of success:
In its target 25-54 demo, though, Fox Business only drew an average of 10,000 viewers per day. This, compared to the network's chief competitor, CNBC, which saw around 201,000 viewers on average and 59,000 in the 25-54 age group.
A few years ago, it was assumed that things would turn out very differently:
The general feeling is that Fox will crush CNBC," one pessimistic CNBC staffer told NYTV. "Politics aside, Ailes is worshiped. The leadership here is in total denial."
Maybe Rupert's reign of terror really is coming to an end.