When you look at the aggregated candidate polls over at Real Clear Politics, it looks like each NotRomney gets about a month and a half in the sun*. In the fig below, I use Perry (deep blue) to illustrate my point. Romney is the purple line that hovers around 22-25%.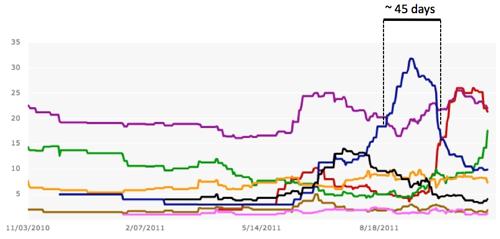 The message is simple enough. Republicans want a champion and not some good-enough milquetoast. The Republican base has cornered the market on stupid people who are easy to manipulate, so loopy carnival acts who dial the batshit up to eleven have a built-in advantage. The problem, of course, is that a circus has to keep moving. It is now more or less mathematically proven that someone who gets the base hot and bothered cannot survive more than a month in the spotlight.
Gingrich is not materially different from Trump, Bachmann, Perry or Herman Cain. He is another clown with a slightly different brand. The only meaningful question is whether the thing that trips Newt up will be his past, his faulty brain-mouth filter or the crickets and spiders that live in empty storefronts where his campaign organization ought to be.
And no, there will be no Huntsmanmania when Newt! throws an axle some time in late Hannukah (Or Fred Kargermentum, in case you were wondering). Huntsman already played enough contrarian cards to enjoy the Amish treatment for the rest of his short political career. If I were Rick Santorum, though, I might start to wonder whether my turn on the hotseat might not line up in a convenient way with Iowa or South Carolina.
(*) Peak width at half maximum. That violates some assumptions but works well enough for simplicity's sake.