This weekend, a reader sent this Reuters story about a candlelight vigil at Penn State, attended by 10,000. Some of the sentiments expressed:
Yenser and other speakers said the school must move forward, but never forget.
[…] "This is definitely a start in the healing process," said Kolker, a junior.
I'm sure these people are well intentioned, but this talk of moving forward and healing is premature, insensitive and unjust to the victims. There is no forward movement or closure to be had now or anytime in the near future. The story of child rape at Penn State has yet to be told in any degree of fullness, and justice for the victims will be long and painful process. Today, as Jerry Sandusky is characterizing witnessed anal rape as "I have horsed around with kids", we learn that the director of Second Mile, a licensed psychologist, had no curiosity when he was told that Sandusky's actions with a boy in the showers at PSU made that witness "uncomfortable". That man has resigned, but much more remains to be told about his former employer.
Almost 10 more victims have come forward in the last few days. As more victims look for justice, we will have months of discovery and years of lawsuits. We're going to learn how two institutions took an eyewitness account of child rape, which is incredibly rare in child abuse cases, and used weasel words and willful ignorance to bury it. We'll learn what sort of deal Joe Paterno made with Sandusky in 1998, what else the PSU football program covered up between then and now, and who else was abused while Second Mile looked the other way. When it is over, the reputation of Penn State, its football program, and its finances, will have taken a tremendous hit. It may well be that the institution will be deeply damaged and may never achieve anything like its past glory. That's OK, because any institution that systematically covers up child rape for more than a decade doesn't deserve to "move on". The victims–not good hearted but ignorant students or alumni of PSU–will decide when and if the healing can begin. And all the prayer in the world will not give those victims justice. The courts will.
Charles Pierce has more in the same vein if you're interested.
Update: Here's the sentiment of "moving on" or "the healing has begun" that I'm talking about, courtesy of Sunday's Daily Collegian [pdf]: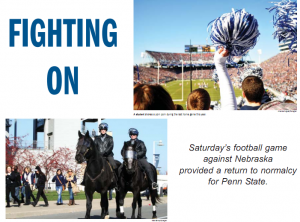 Click to embiggen and read "Saturday's football game against Nebraska provided a return to normalcy for Penn State".