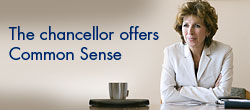 UC Davis Chancellor Linda P.B. Katehi is the latest member of the list of stupid responders to Occupy provocation. Since Katehi is a university administrator, she cloaks her iron fist in a flabby glove of bullshit comity rhetoric:
While we have appreciated the peaceful and respectful tone of the demonstrations to date, the current encampment raises serious health, safety and legal concerns, and the resources we require to supervise this encampment cannot be sustained, especially in these very tight economic times. Our resources must support our core mission to educate all of our students.

We appreciate the substantive dialogue you have begun here, and we want to offer you appropriate opportunities to express opinions, advance the discussion and offer solutions as part of the time-honored university tradition. We invite you to consider the topics you would like to present and we will work with you to sponsor a series of forums throughout our campus.

I must now ask that all tents be peacefully removed by 3:00 p.m. today in the interest of safety, respect for our campus environment and in accordance with our Principles of Community.
I love that last bit — the time-honored UC Davis "Principles of Community" are apparently printed on a can of pepper spray. Here's part of her response to to a dozen students getting maced in the face:
We deeply regret that many of the protestors today chose not to work with our campus staff and police to remove the encampment as requested. We are even more saddened by the events that subsequently transpired to facilitate their removal.
A moron who thinks the passive voice is the politically smart response to what went down yesterday is probably too thick to realize there's a simple alternative that's worked elsewhere. For example, after clearing the Occupy encampment in Rochester once, and realizing that it would cost far more and bring Occupy more attention to do it again, the Mayor here cut a simple deal. Occupy gets half the park, and cleans up after themselves.
If you look at the pictures of the UC Davis encampment in the campus newspaper, it was occupying a tiny bit of space. Linda P.B. Katehi figured clearing out that peaceful little encampment was important enough to send in armed riot police instead of cutting a deal. For that, she should be fired.