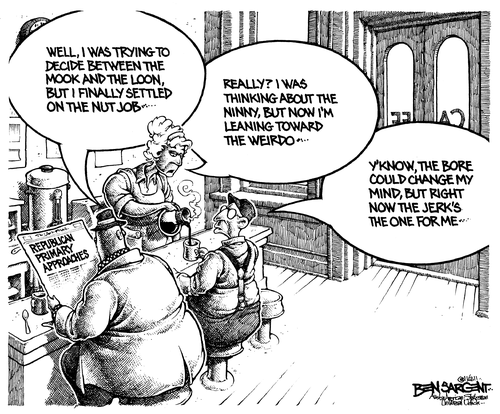 (Ben Sargent via GoComics.com)
Gail Collins at the NYTimes muses on the financial acumen, or what passes for it, among the current top GOP contenders:
The personal finances of the G.O.P. presidential hopefuls are important for two reasons. One is that we're talking about people who aspire to the most prestigious and important job the nation has to offer. The other is that these folks seem to have done really, really well. Perhaps, they can offer career tips….
__
Gingrich wants everyone to understand that he does not lobby. Really, whatever the exact legal definition of lobbying is, that is something he did not do. The Gingrich Group got what turns out to be about $1.6 million to not-lobby for Freddie Mac, one of a long, long list of clients. Let's all pause to recall the high dudgeon with which Gingrich announced, during one of the debates, that Representative Barney Frank ought to be put in jail for being "close to" Freddie Mac lobbyists. What kind of politician demands that an elected official be incarcerated for hanging out with the same people who are paying said politician $1.6 million or so to not-lobby?…
__
Romney is the richest person running for president, worth somewhere between $190 million and $250 million. Most of that came from his work at Bain Capital, a firm that bought up troubled companies and gave them makeovers. Although many people lost their jobs when Bain Capital reeled in their employers, Romney's work did create a lot of new value. Which, on occasion, Bain Capital walked away with, leaving the remnants of the company flopping helplessly on the beach….
__
Some of the Republican candidates seem to have no visible means of support whatsoever — like Rick Santorum, who has seven kids. You would hate to think they were going without shoes just so Dad could continue his never-ending quest to break into the 5 percent range in the polls.
__
But, good news! Santorum made at least $970,000 in 2010, in all those mysterious ways unsuccessful Republican candidates for president seem to have of making money. Part of it came from being a commentator for Fox News, and part of it came from Santorum's work at — yes! — a think tank.
__
Rick Perry does not have a vast fortune, although he is blessed with friends who fly him around on private jets, take him on cool vacations and, occasionally, sell him real estate at bargain-basement prices. This week, Perry laced into Barack Obama as a man who could not possibly understand what ordinary Americans were going through because he "grew up in a privileged way." This is a strange way to describe the president's upbringing — particularly when Romney, the guy Perry is actually supposed to be running against, was the son of the head of American Motors. Maybe he got the two mixed up.