The last minute or so of this report by Aggie TV at UC Davis is pretty amazing. It shows a large group of UC Davis students sitting in silence as Chancellor Linda P.B. Katehi walks from her press conference to her car. The conference had to be cut short because protesters entered the building, and Katehi's walk occured after three hours of negotiation. This is the conference where, as John posted yesterday, Katehi announced her blue-ribbon ass covering panel. UC Davis Police Chief Angela Spicuzza also said this (via Fallows):
"There was no way out of that circle," Spicuzza said. "They were cutting the officers off from their support. It's a very volatile situation."
Here's what "no way out" looks like: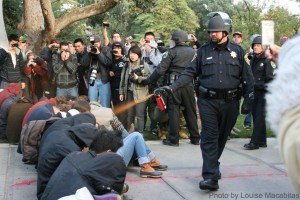 As Steven L. Taylor notes, there was another incident of police brutality at UC Berkeley on Tuesday, where police hit demonstrators with batons and dragged a female faculty member away by her hair. Katehi knew that the last order to clear the area on a UC campus ended in violence, but she gave the order to clear her campus anyway. The UC Davis faculty association has called for her resignation, and they're right, though I sense she'll be hanging on for a good, long time.
I have to confess that I have a major prejudice against university chancellors, presidents, provosts and the like. I think most of them are sociopaths, and their pathology and immorality is in many ways worse than their corporate equivalents. At least corporate sociopaths are in it for big money, and if they succeed their stockholders have a chance of doing OK. University administrators are in it for questionable prestige, petty power and a pretty good salary, and their success redounds on no one but themselves. To get to their post, they develop a habit of pushing out the most blathery, dishonest, sounds-good-but-means-nothing rhetoric. If they disagree with something, they find a way to "encourage dialogue" that actually buries the issue in a do-nothing committee. If the disagreement continues, they paint their opponents as "inappropriate", the all-purpose word that means nothing other than "I don't like it".
For example, Kathei told CNN that she found the actions of the police on Friday "inappropriate". She can't say what everyone else watching those videos thinks — that macing peacefully assembled protesters is illegal, immoral and disgusting. Those words aren't in her vocabulary. If they ever were, she threw them away to get where she is now.