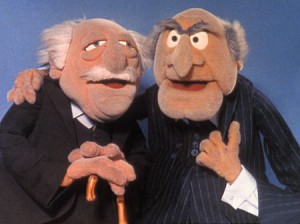 I'm a regular reader of Outside the Beltway and today I'd like to serve up a heaping helping of Doug Mataconis and James Joyner claim chowder. The general point these two are always making is that the Occupy movement is dirty and attracting violent elements, every setback means the protesters will give up, and the protesters are on the verge of doing crazy shit.
In the dirty and violent department, we have Tuberculosis at Occupy Atlanta, Health Threats at Occupy Wall Street and Shooting Deaths at Occupy Oakland and Occupy Burlington. The Occupy Atlanta "outbreak" was a Fox News meme that has been completely debunked. The vague "threats to health" at Zucotti park didn't materialize. The story about the Oakland shooting makes it pretty clear that it was nearby, not in the encampment, and the shooting in Burlington was a tragic suicide by a military veteran.
In the "it's over" department, here's a prescient October 27 piece by Mataconis titled Occupy Wall Street on the Verge of Fizzling Out?, and last Sunday's Occupy Portland Appears to be Over. Yesterday in Portland: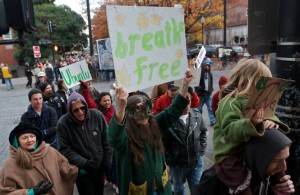 Finally, the crazy protesters meme is well represented by this post cherry picking crazy OWS participants who ended up doing nothing, and yesterday's note by Joyner, in an otherwise quite good post about police action at UC Davis:
I truly hope Occupy doesn't devolve into rioting. We've got real problems in this country with the scope of government power but this isn't Mubarak's Egypt. Here "authoritarian" is a tendency that we need to combat and that people like Greenwald and I can openly and forthrightly discuss without fear of reprisal and stronger than stupid comments from Internet trolls. Organized interests, particularly monied ones, have outsized influence in our system precisely because they care whereas most of us are apathetic most of the time. But there are still nonviolent political tools at our disposal and protests must be peaceful and, for the most part, law abiding.
After two months of almost completely non-violent protests, and marches where violence has mostly been initiated by cops, Joyner just can't help his concern trolling. If UC Davis showed anything, it showed that there's something going on in Occupy that moves the participants towards peace rather than violence. The events on the Davis quad could have devolved into a riot, but it was action by the occupiers that kept it from doing so. If you watch the entire video of Katehi's march of shame, there was not a word spoken by any of the obviously upset yet incredibly disciplined protesters. I guess you can worry about a devolution into rioting, if you're a worrier, but there's no evidence that Occupy is going in that direction, just as there's no evidence for the many other claims made at OTB by Joyner and Mataconis.
Also, too: as usual, Steven L. Taylor is turning in solid, reasonable posts.
Update: More on the run up to Friday's Davis event, and a really compelling inside account of the events after the press conference, from the campus minister who accompanied Kathei on her walk of shame, on the ministers' Facebook page, via RalfW in the comments. Here's her blog with the same posts for those of you not on Facebook (via Fallows).