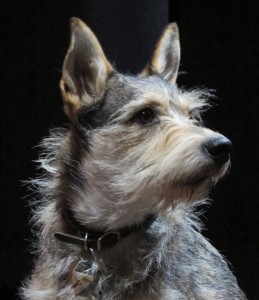 (Katherine H's Juanita)
Excellent news! — we have a volunteer for the 2012 Balloon Juice Pet Calendar. Here's Beth S.:
i am so pleased to be working on the calendar this year. i've been a devoted balloon juice reader since the 2008 campaign and i'm delighted to give a little bit back to this community that keeps me sane, informed and shares my sappy love of animals, especially rescues. (i have two dogs who are both rescues, one of which is my consolation prize for not being able to rescue any more cats as my husband is terrible allergic.) so here goes…
__
the calender is for 2012. i will do my very best to get it done by the holidays. it's my understanding the calenders will benefit charlie's angels. i do have a full time job as a graphic designer but will try not to let that interfere too much with this.
__
you can send your submissions to [email protected] please send photos of all your fuzzy, scaly, feathered, finned companions. let me know their names and i'll be sure to include it on their photos…
__
i will do my best to answer any technical questions and you can always send me an email at the yahoo account.
__
thanks so much for your generosity in sharing your pets for the calendar!
Deadline for submissions is Wednesday, November 30 — take some time over the long weekend to dig out those mementoes of your beloved pets, past or present. Email them directly to Beth at the address above, or click on my name near the top of the right-hand column & I'll forward them.
One of the first submissions, posted above, came from commentor Katherine H:
We found Juanita homeless and starving down on the Res where the San Juan river passes through the canyons / Hence she is named for the San Juan.
__
We think she is part some kind of terrier and an undernourished coyote.
____
She is the most fun loving and sociable dog I have ever had / every one in town knows her name.
__
We have endless pictures of her being cute but this one is her serious look.