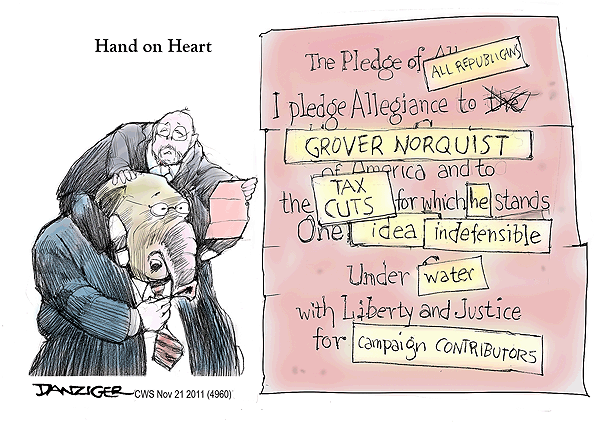 (Jeff Danziger's website)
__
Some people say there is a move by the Democrats to make Norquist the face of the Republicant Party. I'm not seeing a downside, truth in labelling, and all that…
Speaking of which, per the Boston Globe's Political Intelligence blog:
With just six weeks left before voters start to make their choices, the Republican presidential candidates gather tonight for what feels like a running weekly special on prime-time television: another debate, in another city, offering another chance for candidates to try and break through.
__
The debate, which is being held at the Daughters of the American Revolution Constitution Hall and will be shown live on CNN at 8 p.m., is the 11th of the primary season. It is the first held in the nation's capital, a place that most candidates speak of with disdain when campaigning in early-voting states such as Iowa and New Hampshire…
__
The debate, which is also sponsored by the Heritage Foundation and the American Enterprise Institute, comes a day after a congressional committee failed to come to an agreement on cutting the deficit's growth by $1.2 trillion over the next decade. Unless Congress can somehow resolve the impasse, that panel's failure will trigger $500 billion in cuts to defense – something Defense Secretary Leon Panetta has said would be "devastating."
Globe's livestreaming link here. The Guardian's Richard Adams will once again liveblog the debacle here.
Speaking of huge dispiriting turkeys, what's on the agenda for America's Annual Bloatfest?