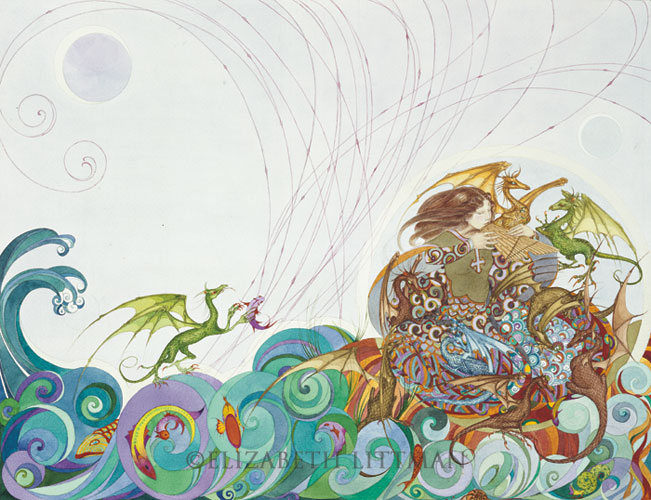 (Elizabeth Malczynski Littman's
website
)
__
From Charlie Jane Anders at io9:
Anne McCaffrey wasn't just the inventor of Pern, the world where a whole society is based on dragon-riding. She was also an incredibly influential author who helped transform the way science fiction and fantasy authors wrote about women, and the way all of us thought about bodies and selfhood. She was the first woman to win a Hugo Award and a Nebula Award, as well as a Grand Master of science fiction.
__
Besides the Pern books, McCaffrey wrote the classic space-faring novel The Ship Who Sang, in which a severely disabled girl becomes the core of a starship, or Brainship, with her mind controlling all its major functions. McCaffrey's novel provided a startling new way to think about personhood and the nature of the mind/body connection, but also helped pave the way for a whole subgenre of posthuman space opera, in which heavily modified humans explore space…
For us girl geeks of a certain age, The Ship Who Sang proved to our carping male fellows that the category "sf/fantasy writer" could not exclude the subset "women" — that not all women writing speculative fiction were 'obsolete' (like C.L. Moore), 'just YA scribblers' (Andre Norton, Zenna Henderson), 'more editors than authors, really' (Judith Merrill, Kate Wilhelm) or 'weird outliers' (Joanna Russ). The premise behind the brainships hasn't aged well; the idea that physically imperfect humans would be turned into enslaved cyborgs as a merciful alternative to euthanasia has moved from unsettling to socially outrageous, and I for one consider such political correctness an improvement. But Helva-the-Brainship is still a fantastic character, and along with her much-mocked (extremely mockable) Dragonriders, have ensured McCaffrey an honorable place in the genre's hall of fame.