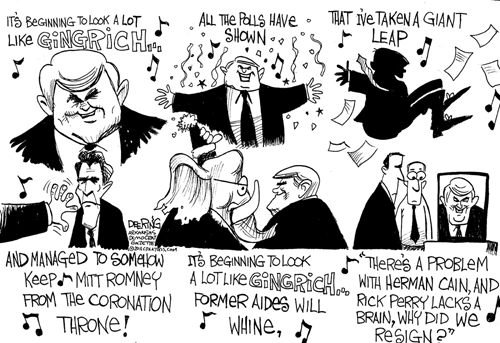 (John Deering via GoComics.com)
__
Per Brett Smiley at NYMag's Daily Intel:
The editorial board of the Union Leader, New Hampshire's most influential paper, has stamped Newt Gingrich with its endorsement. The seal of approval is a big boost for Gingrich and a blow for GOP presidential contender Mitt Romney, who had been courting Union Leader officials with hopes of winning the paper's backing, according to Politico.

"We are in critical need of the innovative, forward-looking strategy and positive leadership that Gingrich has shown he is capable of providing," Union Leader publisher Joseph McQuaid wrote. "… Readers of the Union Leader and Sunday News know that we don't back candidates based on popularity polls or big-shot backers. We look for conservatives of courage and conviction who are independent- minded, grounded in their core beliefs about this nation and its people, and best equipped for the job."…
Takes a long genealogy of evil and years of advanced training to pack that much conserva-blather into a single sentence, Mr. McQuaid. Well played.
The good news for us here in the Reality-Based Community is that (a) this will sadden Millard 'Witt' Romney, which is always entertaining, and possibly damage the Romneybot's standing in the Live-Free-or-Die-Trying State; and (b) when Newt fails to win the NH primary, it will damage the Union-Leader's "kingmaker" status, in which they've taken way too much noisy credit since kneecapping Ed Muskie with the help of Tricky Dick's ratfvcking squad.
Even were Gingrich to succeed in stealing the NH primary from Willard — and there is a nascent movement to encourage NH Dems (such as there are) to cross party lines and vote for The Swollen Amphibian, not to mention the proud Free State Project proponents of Dr. Ron — he'll never manage to keep his temper restrained and his mouth shut long enough to be more than a nuisance by the time of the Tampa convention. But anything that further damages the Republican "brand" is Good News for President Obama, and Newt is never more than a missed nap away from a spectacular on-camera meltdown.
ETA: Thanks to commentor MikeJ, via Rumproast, for Gawker's report on how much the endorsement confused Twitters.