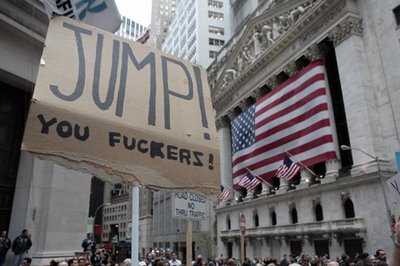 It appears our Galtian Overlords really can't do anything right:
"When you see the dollars the banks got, it's hard to make the case these were successful institutions," says Sherrod Brown, a Democratic Senator from Ohio who in 2010 introduced an unsuccessful bill to limit bank size. "This is an issue that can unite the Tea Party and Occupy Wall Street. There are lawmakers in both parties who would change their votes now."

The size of the bailout came to light after Bloomberg LP, the parent of Bloomberg News, won a court case against the Fed and a group of the biggest U.S. banks called Clearing House Association LLC to force lending details into the open.

The Fed, headed by Chairman Ben S. Bernanke, argued that revealing borrower details would create a stigma — investors and counterparties would shun firms that used the central bank as lender of last resort — and that needy institutions would be reluctant to borrow in the next crisis. Clearing House Association fought Bloomberg's lawsuit up to the U.S. Supreme Court, which declined to hear the banks' appeal in March 2011.

The amount of money the central bank parceled out was surprising even to Gary H. Stern, president of the Federal Reserve Bank of Minneapolis from 1985 to 2009, who says he "wasn't aware of the magnitude." It dwarfed the Treasury Department's better-known $700 billion Troubled Asset Relief Program, or TARP. Add up guarantees and lending limits, and the Fed had committed $7.77 trillion as of March 2009 to rescuing the financial system, more than half the value of everything produced in the U.S. that year.
Remember what was happening in March of 2009? On February 19th, 2009, Rick Santelli had his famous rant about a program to extend meager amounts of help to homeowners, while at the very same time the Fed was doling out trillions to his douchebag buddies. While these assholes were famously whining and screaming about socialism and government involvement in the markets (when people were discussing different compensation rules), they were behind the scenes taking trillions to help smooth over their fuck-ups.
This is what the useful idiots in the tea party are fighting for…