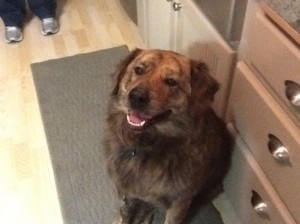 __
Beth S. has generously volunteered to put together the 2012 BJ Calendar. To recap from last week:
… you can send your submissions to [email protected]. please send photos of all your fuzzy, scaly, feathered, finned companions. let me know their names and i'll be sure to include it on their photos…
__
i will do my best to answer any technical questions and you can always send me an email at the yahoo account.
__
thanks so much for your generosity in sharing your pets for the calendar!
Deadline is this Wednesday, November 30. "Big" files, highest possible resolution, are just fine. If you have trouble with the dedicated address, click on my name near the top of the right-hand column and I'll forward your pics to Beth.
Representative submission, from commentor Feebog:
Attached are some pics of our rescue dog, Cappuchino, or Cappy for short. We got Cappy from a local rescue group, Labs and Buddies, which operates out of the West San Fernando Valley. Cappy was about a year and a half old when we got him, kind of skinny and the usual problems with rescue dogs; kennel cough and bowel problems. However, it did not take him too long to settle in. He has gained about 20 lbs. He is equal parts of Golden Retriever and Chow, or so we have been told. As you can see, he does look like a Golden, but his coloring is brindle, with brown, black, gold and gray on his back and gray and black on his belly and tail. Tonight the Mrs. was frying stuffing for tomorrow night's dinner, and Cappy was, uh, helping.