A touching story sent to me a few days ago by reader JS, in response to an ongoing Sullivan meme.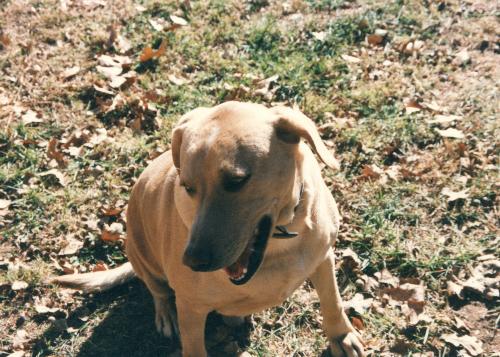 Fletcher was dying, born with an enlarged heart my parents had been told. I'd driven home to my parents where he lived because I didn't know what else to do.

I'd brought Fletcher home from my summer job in the OK oilfields where my boss had dumped him out after his kids had grown bored with him. He'd been there three days. He was just a puppy and all us were pretty sure he was going to die. He was too young and weak to hunt like the other dog who's name that I can't remember that Otho had dumped. I felt bad for him, but I was going back to school in a few weeks and being that I lived in the dorms a dog was out of the question, especially since my dad had made it clear that he didn't want anymore dogs. Just get in the fucking car and leave I told myself everyday, except today he was laying underneath my front tire. I grabbed him and threw him into the car figuring I'd take him to the pound or something that getting put to sleep was better than starving to death. He laid up under the middle console of my Ford EXP the half hour drive to my parents never moving or making a sound.

What I expected would happened when I got home with him did. My dad was pissed, yelling at me that he didn't want any goddamn dogs. I assured him that I'd be taking him to the pound and that he didn't need to worry. He responded by telling me that if the dog made so much as sound that night he'd shoot him before I had the chance to. I finally got so sick of listening to him that I told him to go get the gun "toughguy" and I'll shoot him now. Fletcher never made a peep that night.

The next morning as I was feeding him some leftover scraps before heading to work my dad was already on me to take him to the pound I assured him come Saturday I would. About that time my mom walked outside looked at Fletcher and said simply, the dog stays.

Seven years later I was lying on their garage floor next to him on the pile of blankets my parents had laid out to keep him comfortable as he gasped for breaths while I cried and waited for my dad to get home, so that we could take him to the vet and put him to sleep. At one point he got up and headed through the yard that had been his to the gate. I opened the gate and followed as he headed down the path towards the creek where we had always walked. I know he was just a dog, but all I could think was "he's trying to make me feel better." When we got to the creek he climbed into the water and looked up at me with a look that to my mind said goodbye. At that point I started screaming at him to get out, to come to me which he finally did albeit seemingly reluctantly. He didn't stop as he passed me sobbing, he just headed back home. Finally when my dad got home, later than usual we took him to the vet. I insisted on staying with him as the vet searched for a vein that hadn't collapsed yet until finally he found one and Fletcher went still. I kissed him and covered him up and then my dad and I carried him outside to the truck and drove home in silence.

When we got back we took him out of the truck and laid him in the grave in the backyard where his house had always set that my dad had dug the day before. Then we covered him up as my dad sobbed and my mom stood watching.

To this day I think I should have left him alone in that creek, but I was young and weak and goddamn I loved that dog.