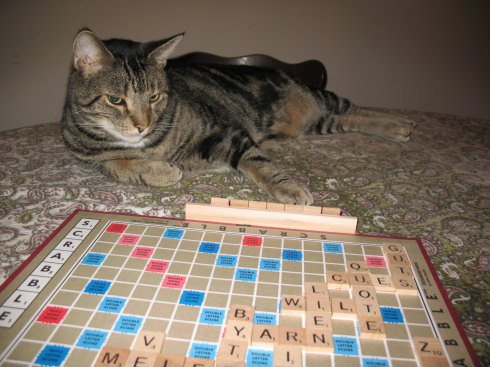 __
I have, to the best of my meagre ability, sent a one-line "Received – thanks!" reply to every pet-pic emailed to me or the Calendar 2012 address. Some of you probably got thanked twice, because there's a total of more than 160 messages, many of them with multiple images. Beth is going to be spoilt for choice! If you sent a pic and didn't get an email, let me know.
__
Many people included stories about their beloved animal companions, some of which I'm planning use here on future mornings, because they're too good not to share. From commentor Schrodinger's Cat:
These are my kittehs Yogi and Inji. Yogi is the brown tabby and Inji is the orange one.
__
Yogi is the first cat I ever had. He is my handsome boy. He is also known as Boss Tweed, since he is bossy, he clearly thinks he is the part of 1% and the rest of us exist only to cater to his every whim. He is very flexible and can contort himself in the weirdest configuration, hence his name Yogi, since he is a master at Yoga. For all his bossiness and cattitude, he is a lover boy, he sleeps on my shoulder every night and is a big lap kitteh. We have had him since was six months old. My neighbor in the married student campus housing was giving him away, since he was tormenting her geriatric cat. He has been with us through three moves and I cannot imagine my life without him. He has been with me through good times and bad for almost 9 years now.
__
We got Inji, our ginger cat about a year after we got Yogi, Yogi needed a buddy to play with, he was lonely, when my husband I would be gone for the whole day. Inji is ginger in Tamil, that's where the word ginger comes from. If Yogi is our boss kitteh, Inji is our Buddha kitteh, she never bites or scratches and is very loving. She does not have a mean bone in her entire body. I adopted Inji from a woman who worked at the grad school offices when I was student. We have had Inji since she was 8 weeks old, and fit in the palm of my hand, now she rivals Tunch in size. She is not a lap cat but she loves to sit next to you and purr. She also takes good care of me when I am sick.
__
I can't imagine my life without these furballs.