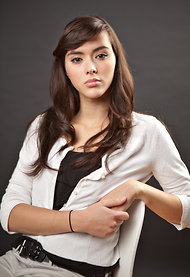 The Times has an interesting article about immigration crackdowns, which includes this picture of Romy Campos, a dual American/Spanish citizen who was held in LA County jails for four days after a misdemeanor arrest on suspicion of being an illegal immigrant. Her hold wasn't based on any of the new state laws, but on existing federal law:
Exact numbers of Americans erroneously held by immigration authorities are hard to come by, since they are not systematically recorded. In one study, 82 people who were held for deportation from 2006 to 2008 at two immigration detention centers in Arizona, for periods as long as a year, were freed after immigration judges determined that they were American citizens.
It's easy for politicians from every party to pound the table for "tough enforcement of immigration laws", especially if none of their children look like Romy Campos.