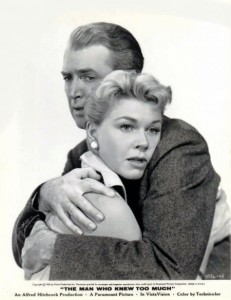 Since DougJ started a Christmas music thread yesterday, how about Christmas movies today.
I don't like any of them much, but I'll watch It's a Wonderful Life on occasion just to see the "what if George never existed" scenes. The only reason I like those is Jimmy Stewart. He made a lot of so-so movies, but I'll be goddamed if anyone can do desperation better than him. When he's rolling around Potterville getting ready to jump off that bridge, you can see that he dredged up something very scary from some dark place inside, and it adds a touch of reality to the melodrama. It's all the more interesting because of the transition from an even-keeled regular guy into the suicidal, desperate figure we see in the "what if" segment.
Stewart is also great in Vertigo, of course, but in that movie his character is motivated by a fear of something most of us can tolerate (heights). For my money, the best desperate Stewart performance is in The Man Who Knew Too Much. Overall, kind of a corny movie, but there are a few minutes after his son is kidnapped where his whole world is falling apart, his wife is hysterical, and he's essentially alone in the middle of Marrakesh. You can see that he's barely holding it together. I have a hard time watching that movie because I find the mixture of Day's hysteria, the loss of a child, and Stewart's desperation a little too real. This still shot shows a bit of the flavor of that movie.
So I guess I like Wonderful Life because it reminds me of better performances in better movies. Maybe all Christmas movies are like that. Or are there some gems none of us know about?