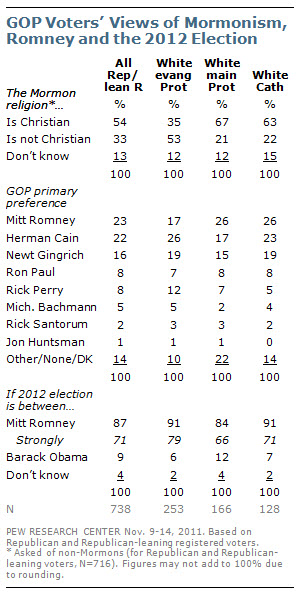 There's a blogfight going on between Kevin Drum and he-who-shall-not-be-named about the kind of press attention Ron Paul ought to be getting. The basic argument Drum makes to support the notion that it's OK to treat Paul like someone who can't win is pretty sensible:
Given the fact that Paul has always had a dedicated band of fanatic supporters willing to give him money and organize support for him, but at the same time has never in his life managed to gain even double-digit support nationally, this is actually perfectly rational. Ron Paul isn't going to win the GOP nomination, and if he manages to pull out some kind of freak victory in a small state with a weird nominating process, well, it's just a freak victory.
Here's my question, though: who else is going to take the Evangelical votes now that Newt is crashing? We know that the flock of nervous birds that makes up the Republican primary electorate won't land on the same candidate twice, and as those Pew numbers show, evangelical Christians don't consider Mormons one of them. So it's anyone but Romney for them, but the major God botherers–Perry, Cain and Bachmann–have already been tasted and spat out. They're not even willing to countenance a mouthful of Santorum, so that leaves Ron Paul, MD, FACOG.
It isn't mentioned much, but unlike a lot of his libertarian brethren, Paul is as comfortable with Jesus as he is the Gold Standard. He's also a staunch anti-abortionist, a good solid family man, and he comes off as authentically honest. If the anti-Mormon voters were willing to flirt with a serial philanderer like Newt, shouldn't Paul at least get a few days of attention before they figure out that he's unelectable, too?