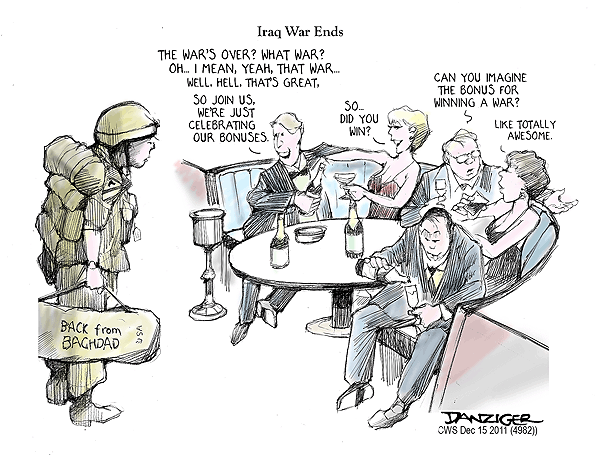 (Jeff Danziger's website)
"We" should never have gone there in the first place, "we" had no business doing what we did or hanging around as long as we did, but President Obama deserves credit for checking off another item on his campaign-promises list. From Andre Tartar at NYMag's Daily Intel:
The last U.S. military convoy of about 25 military trucks and 100 armored vehicles, carrying the remaining 500 active duty troops (most based in Fort Hood, Texas), crossed out of Iraq at daybreak Sunday. The final pullout was even kept secret from the soldiers' Iraqi counterparts to avoid any final attacks, says the AP. But at the Kuwait border, it turned into a jubilant scene as the column of horn-honking and whooping soldiers were greeted by their fellow servicemembers. Although a final contingent of 150 or so will stay behind for training purposes, this effectively closes out one of the longest wars in U.S. history, having cost nearly 4,500 American lives and $1 trillion, with more than 20 times more Iraqi lives lost.
I personally agree with Doghouse Riley:
Point Of Order: If We're Going To Declare The War In Iraq Over, Shouldn't We Declare War On Iraq First?
__
Or, If We Were Going To Have The Last Person To Leave Iraq Turn Out The Lights, Shouldn't We Have Turned On The Electricity At Some Point?
__
My favorite bit, so far: WaPo entitling a slide show "From swaggering hope to quiet departure". Which is like seeing a review entitled "Dance incompetently staged" and discovering it was written by the choreographer.
Herewith, a thread for everyone to reminesce about your favorite Ten Years of FUBAR, Mesopotamia Model memories/grievances.