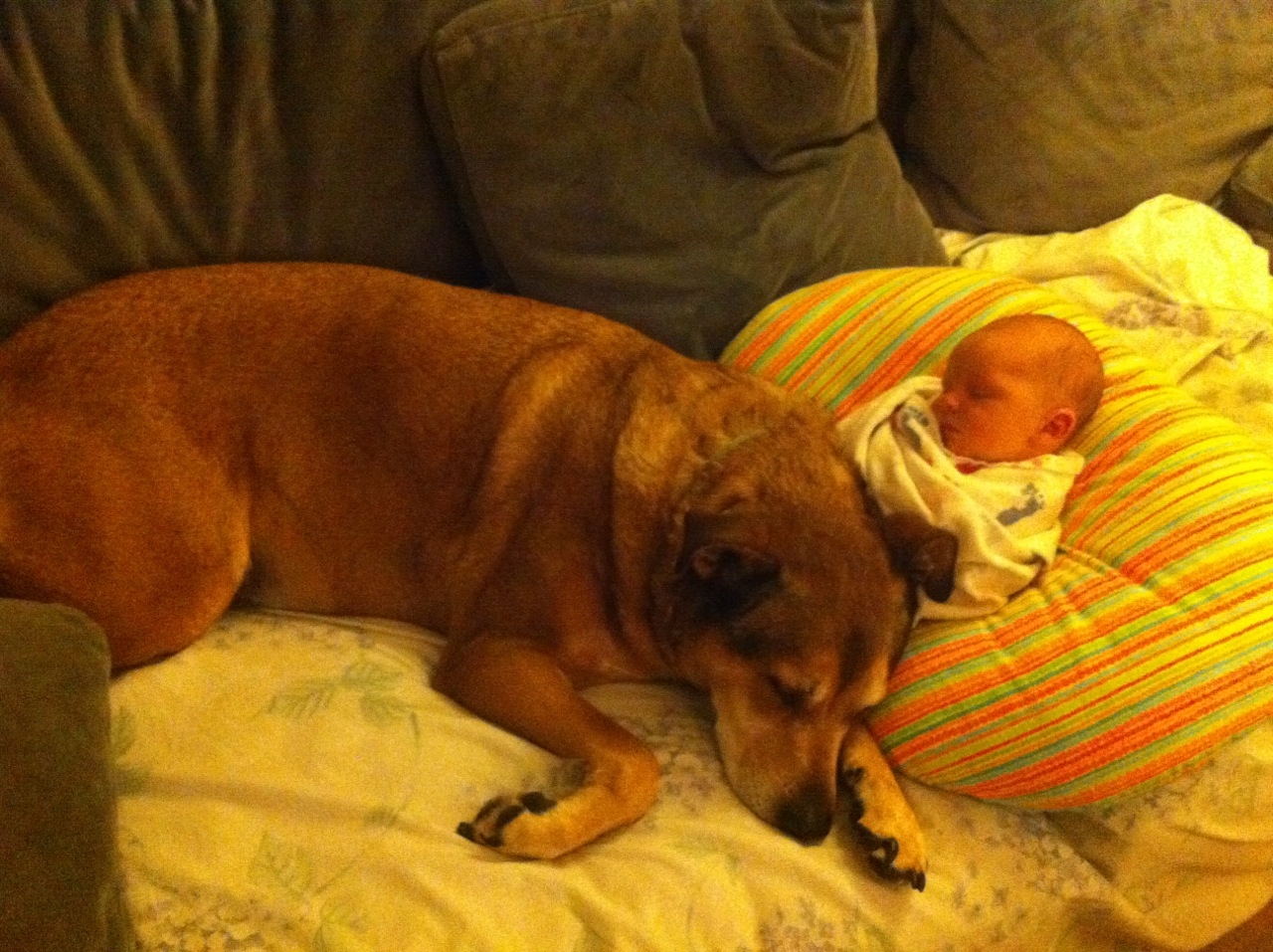 __
Happy news from commentor Loneoak:
As some of you may remember, my wife and I spent much of the last year cookin' up a little biscuit of baby boy. This is Lorenzo "Enzo" Sylvan Loneoak, born last Saturday 12/10/11 around noon. He was 7 lb, 11 oz, 21 inches long and was born with the standard accessories, like two eyes, 10 toes, 12 fingers and kung-fu action grip. He was due Thanksgiving weekend, which means he was a full 42 weeks term (way overdue). His birth was pretty challenging, and filled with weird omens. My wife's labor seemed to start during the freak Northern California windstorms that knocked out our power for three days and blocked 4/5 routes to the birthing center from our pretty wild outpost in the Santa Cruz Mountains. But she stayed in an early phase of labor for quite awhile, until our midwives insisted we try to kickstart it with a medical induction. That was the first sign our birth plan was going out the window. She labored for 40 very hard hours at the birthing center, and had a few scares that resulted in being monitored constantly. I woke up from my two brief catnaps during the whole event to a phalanx of doctors and nurses descending on our room to alarm bells. But the baby seemed strong, and we were committed to a birth with fewer medical interventions and we had a wonderful doula to see us through it. The most progress happened early Saturday morning, when it seemed he would be born under the full eclipse of the full moon. But much of progress ended up being illusory—he just wasn't descending enough. So the time came when all the evidence pointed to the baby not able to come out on his own, especially with mom so incredibly exhausted, and we headed in for a c-section. The doctors in the operating room gasped and told me to get out my camera when they saw why he hadn't descended: he had an obscenely long umbilical cord, which he had wrapped around himself several times and tied a "true knot" in it. "True knots" are pretty rare, and potentially very dangerous: the cord has to form a loop which the baby then passes through, making a knot which can constrict during delivery.
__
Enzo let out one big cry when he was taken out and then just settled in to meet us. He's generally a very mellow baby, and only really lets out a good squall when he's being changed (any tips from experienced parents on how to handle that would be greatly appreciated). I've developed an aptitude for swaddling and love to have him fall asleep on my chest while I read at night. My wife is doing well with her recovery and really enjoys bonding time. Our dog Turnip instantly adored Enzo and insists on following him around the house and cuddling him when she can. We have so far gotten off easy on the newborn situation with a baby that actually wants to sleep 4-5 hours at a time at night. The name Lorenzo comes from our location overlooking the San Lorenzo River Valley (and although we're not Xtian, Saint Lawrence was cool), and Sylvan ("of the forest") was suggested by his great-grandmother.
__
Anyway, thanks for your support, enjoy your new mascot!
__
P.S. Andy K will be proud to know that on Enzo's second day of life he watched the Packers beat the snot out of the Raiders while snuggling on daddy.
Welcome to the world, and the blog, young Enzo!