The more I follow politics, the more I like it when libruls do things like this: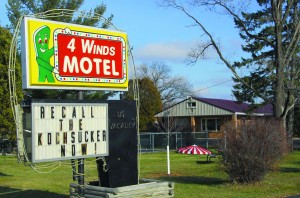 You know, people with kids are driving by. And you know there are little kids who are 8, 9, 10 years old who are old enough to be able to read that and might say, 'Mommy, what does that mean?'" said Andrea Lombard, a Sauk County supervisor and first vice chairwoman of the Republican Party of Sauk County. "Well, how does Mommy explain that? I'm not sure."
I realize I'm in the tiny minority of liberals, even here, who like it when liberals put up mean signs, and when tv bands play mean songs about fascist presidential candidates, and when bloggers say mean things about recently deceased misogynist war-mongers. But right-wing fuckheads shove Fox News in our faces everywhere we go, so fuck them if they can't take a joke.
Standing up to the brownshirts every once in a while isn't such a bad idea, in my opinion.