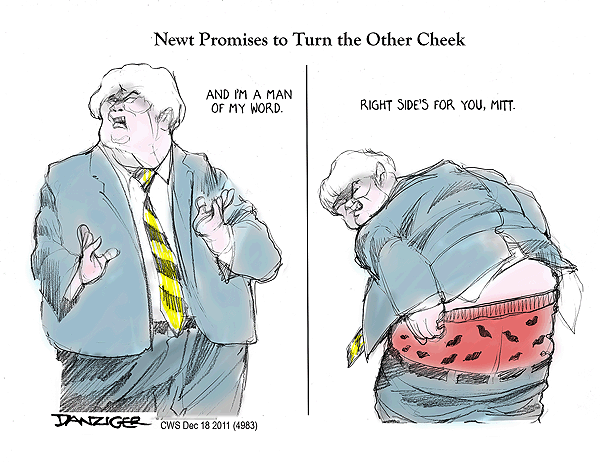 (Jeff Danziger's website)
__
Via TPM, the most honest man in Iowa:
When a man in a camouflage coat grabs your hand in an Iowa grocery store and calls you 'a fucking asshole' to your face, it might be time to take stock of your position in the state.
__
For Newt Gingrich, who was on the receiving end of the unorthodox greeting Tuesday, it was a sign that his campaign is returning to earth after having rocketed since Herman Cain's collapse…
__
And for your further entertainment, I suggest Jonathan Chait's dissection of "The Brilliance of Newt Gingrich":

What makes Newt Gingrich so entertaining is that he is able to combine an adolescent arrogance with a childlike capacity to live in the exact moment, with no sense of the past or the future. Everything is always perfectly obvious, even when it is the exact opposite of what he believed before. He can toggle between perfectly obvious conclusions at will…
__
Perhaps the best comic touch is his droll observation about the effect of negative ads. A few weeks ago Gingrich declared he was almost certain to win the primaries because – duh! – he was ahead in the polls:

It's very hard not to look at the recent polls and think that the odds are very high I'm going to be the nominee. And by the way I don't object if people want to attack me, that's their right. All I'm suggesting that it's not going to be very effective and that people are going to get sick of it very fast.

Obviously Newt was going to win! Look at the polls! And of course negative ads would not do anything to change those polls. Except now it is perfectly clear that the opposite is the case. For a self-styled historian and futurist, Gingrich has an unusually poor grasp of both the past and the future. He prefers to reside in a present in which he sees everything with perfect clarity.
Maybe there's the germ of a new campaign slogan there: Vote Newt — the perfect candidate for our modern Idiocracy!