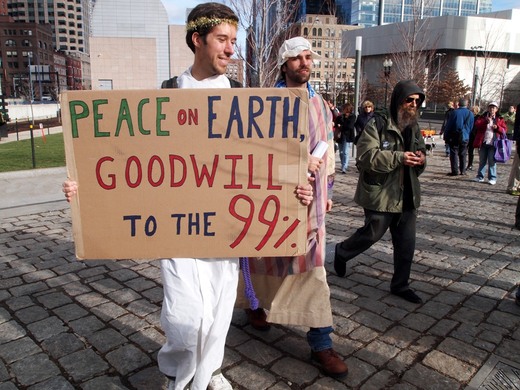 __
Subvert the Dominant Paradigm… these guys actually got about 30 seconds on the local tv news last night, but the clip's not online. Jeremy C. Fox, at Boston.com:
Around 20 members of Occupy Boston returned to Dewey Square Park for a holiday-themed protest today, the first day the park reopened to the public following the eviction of protesters by police Dec. 10.
__
Arriving at noon, protesters and protest chaplains — a group of clergy and lay people who have brought a spiritual framework to the Occupy movement — donned biblical garb and held up signs with messages such as "There is still no room at the inn" and "Peace on Earth, goodwill to the 99%."…
__
The Rev. Stephanie Spellers, 40, a priest at the Crossing at St. Paul's Episcopal Cathedral, led the group in singing "O Come All Ye Faithful" in the public market. Spellers said she became a protest chaplain because many of her parishioners are young adults and people supportive of the movement.
__
She, too, pointed to the similarities between Christ and protesters in the Occupy movement.
__
"The point is just to remind people as they celebrate the Christmas season that you can't celebrate Christmas without acknowledging that Jesus was poor, homeless, disenfranchised and willing to give his life for the many," she said. "Can we be that generous?"
If all faithful followers of the true national religion of American Consumerism(tm) are granted just this brief annual window to consider the less fortunate, kudos to the Occupiers for making the most of it.