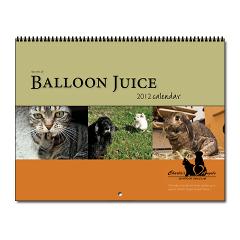 I just got word from Beth S. that she has completed the Balloon Juice 2012 calendar, and it is now available for purchase. I hope each and every one of you takes a moment to than Beth S. for all the hard work she did putting this together for us, as she picked up where Laura W. left off last year. Also, take a moment to thank Laura W. and Ahab for really getting this started and allowing us to help all those wonderful animals. All three of them have given up a great amount of time to make this possible, and I thank them.
As a reminder, every penny from sales of all Balloon Juice store items and the 2012 Calendar will go to support Charlie's Angels Animal Rescue, a truly wonderful charity that helps a ton of needy animals.
BTW- we did something different and have a Where's Waldo sort of thing going, with a picture of Tunch in every month. Why? Because he said so.