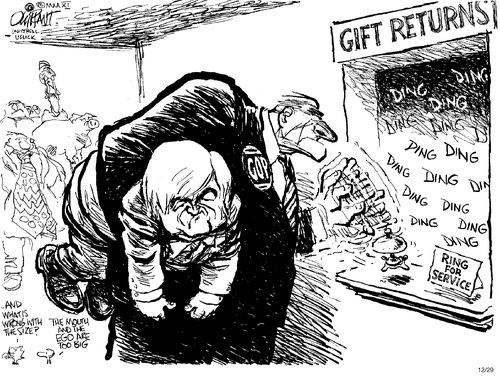 (Pat Oliphant via GoComics.com)
__
Dave Weigel at Slate reports on "the Newt Un-Campaign" in Iowa on New Years Eve:
– Gingrich's stump speech ranges from 19 to 25 minutes. There is no script. There's a litany of brain-enhancing policy lectures. As he closes, he either enumerates "two quick things" or "three quick things." The last "thing," perennially, is his promise to challenge President Obama to seven three hour debates "in the Lincoln-Douglas tradition, with a timekeeper but no moderator." This allows him to end with a zinger, when he "concedes" or "allows" Obama to use a teleprompter. I've never seen less than full-on, crowd-wide chuckles at that line…
__
– He sticks around. There was some "hah, hah, look at the implosion" coverage of Gingrich after his tour's ambitions were scaled back, to three or four events a day. Gingrich uses most of the time to allow voters to meet him. He specifically reminds them, at the end of appearances, that they can get signatures or pictures with him or Callista.
__
– The 80s figure high up in the Gingrich stump. "Callista and I were at the Ronald Reagan Library on Reagan's 100 birthday," he says, "and we had lunch with former Secretary of State George Schultz."…
Sounds like the ever-adaptable Swollen Amphibian has accepted, barring fortuitious accidents (Willard Romney being fatally bitten by a rabid Paul supporter, for instance), that he's off the Campaign Trail and back on the Chautauqua circuit. If he can't look forward to lecturing every American and the entire global community for the next four years, at least he can move Gingrich product, bump up the Gingrich speaking fees come 2013, burnish the Gingrich Brand for more shelf space in the Wingnut Welfare Wurlitzer Walmart. Given yesterday's much-ballyhooed "tearful" storefront speech to Iowa's Moms, I suspect he dreams of a post-November call from the OWN network, as he spins fantasies of becoming the "historian" verson of Dr. Phil…
__
On a less derisive note: How are plans for the upcoming calendar-change celebrations looking — or, in the case of our correspondents on the other side of the globe, proceeding?